mmmmm Healthy Living Baked Gluten Free and Dairy Free Do'h nuts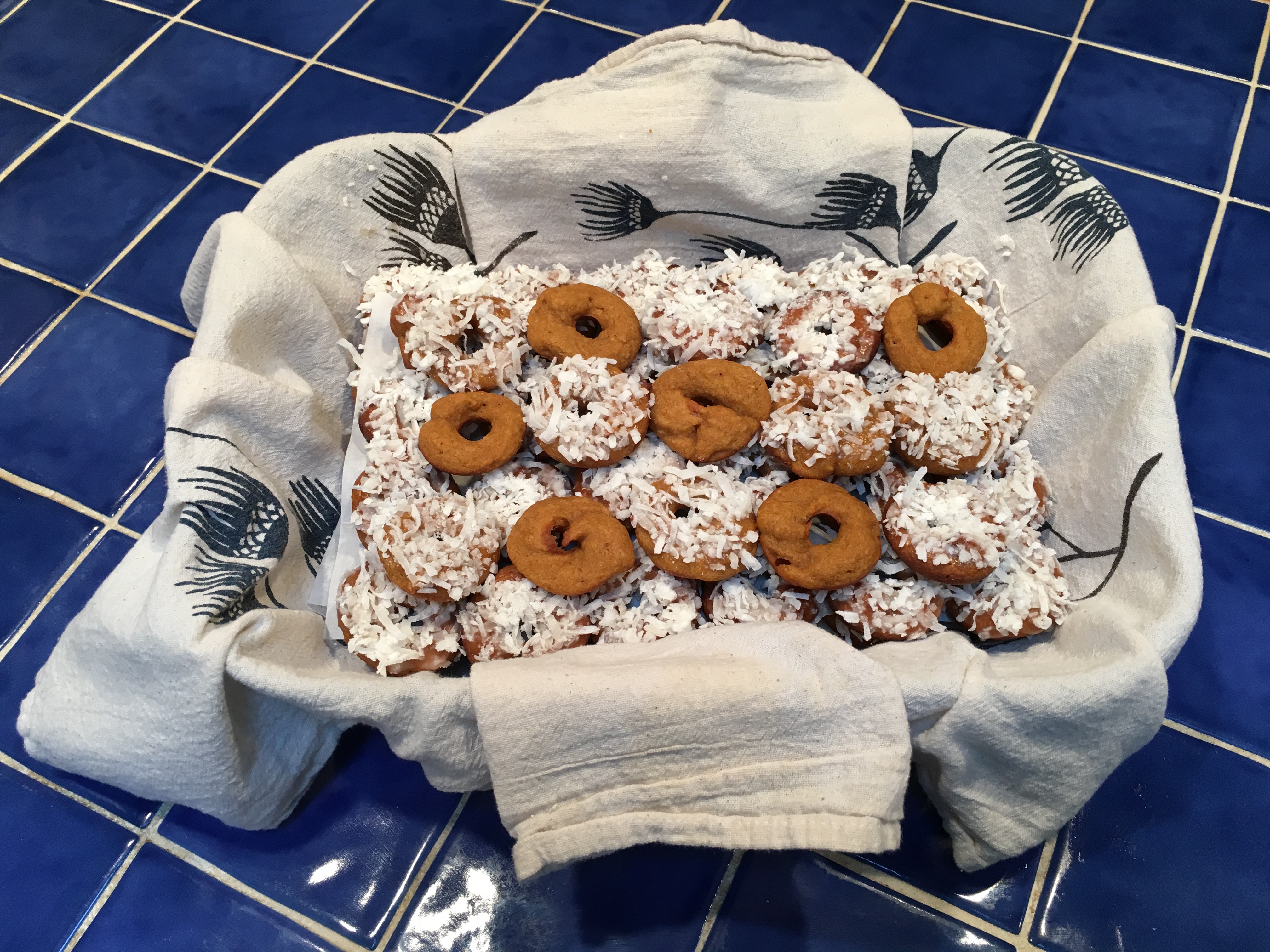 Every 3rd Sunday, I bake healthy gluten free treats for the Battleground FourSquare Church – so I'm always searching for new and exciting recipes!
I spied this B-A-K-E-D Sweet Potato Donuts with Chocolate Coconut recipe from Ambitious Kitchen blog 
Inspired, I made a few changes for us Gluten Free and Dairy Free Sensitive bakers.  Here's Sated Sensitive's take on this scrumptious breakfast treats: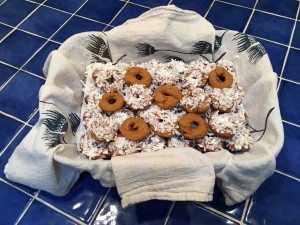 INGREDIENTS
3/4 cup gluten free all purpose flour
1 teaspoon baking powder
1/2 teaspoon ground cinnamon
1/8 teaspoon salt
1/2 cup cooked mashed sweet potato (or canned pumpkin)
1/4 cup honey
1 large egg
1 1/2 tablespoons coconut oil, melted and cooled (olive oil also works well)
1 teaspoon vanilla extract
1/2 cup powdered sugar with 1 TBS vanilla                                                                                               1/2 cup coconut flakes
INSTRUCTIONS
Preheat oven to 350 degrees F. Grease a donut pan with nonstick cooking spray.
In a large bowl, whisk together gluten free all purpose flour, baking powder, cinnamon, ginger and salt; set aside.  In a separate bowl, mix together the sweet potato (or pumpkin), honey, egg, coconut oil and vanilla extract until smooth and creamy. Add wet ingredients to dry ingredients and mix until just combined. Avoid overmixing here as it can make the donuts tough instead of light and fluffy. Spoon the batter into the donut pan, filling almost to the top.  Bake for 13 – 16 minutes or until cake tester comes out clean. Turn the donuts onto a wire rack to cool completely.  Once donuts are cooled, mix together the powdered sugar and vanilla until smooth.  Dip each donut in the icing then immediately dip into the coconut flakes, then transfer to a wire rack. Repeat with remaining donuts.
You can skip the icing and coconut flakes however the baked donuts are just not that pretty on the up side so they kinda needed something to spruce them up.
Homer Simpson votes YES for these healthy living donuts!