It's TEA time ~ Herbal Tea Healthy Living Benefits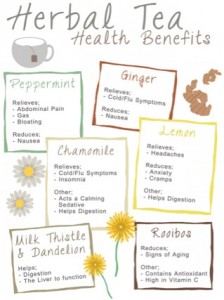 For centuries, people in every culture have used herbs and spices to enhance the taste of food and drink as well as to support, protect and heal their bodies. Passed from generation to generation, the wealth of information about the healing powers of herbs and spices for our physical, mental, emotional, social, and spiritual selves continues to hold true today. One way to enjoy the health benefits of herbs and spices is by drinking herbal tea. Herbal teas or tisane (pronounced "tea-ZAHN) is an infusion of herbs, spices, leaves, flowers, fruits, berries, seeds, bark or roots. The plant constituents from this infusion is extracted in hot water and then enjoyed as a beverage either hot or cold. In drinking well-steeped herbal tea, we receive all the plant's benefits to help heal and protect our bodies in an easily digestible form. What are some of the health benefits of drinking herbal tea?
Simple, effective, inexpensive, caffeine- and drug-free ways to enjoy the taste and benefits of herbs and spices
Health boosting – may provide more nutrients than vitamin pill
Provides your body with much needed hydration!
Amazing aromatherapy benefits
May relieve insomnia, to calming an upset stomach, to fighting viruses and infections to so many other ailments
Tea is something you can share with others to slow down and connect with one another
Did you know there is a wonderful bulk herbs, teas and tinctures place in Battle Ground called the BG Apothecary located at 314 NE 1st Ave, Battle Ground, WA 98604.  BG Apothecary stocks so many wonderful proprietary house blend herbal teas. A few of our offerings include:
Immuni-Tea to build your immune system with Ginseng, Astragalus, and Elderberries.
Dream Tea relaxing night time blend
Stomach Ease Tea formulated with such herbs as Mint and fennel to aid in digestion.
Heart Loving Tea a beautiful blend with Crataegus and Spearmint
With well over 1,000 herbal tea recipes, Diana would be happy to help blend a special offering just for you. Just last week I helped mix up a small batch of Nerves tea with passion flower, skullcap, chamomile, lavender plus a few other goodies.  Sure could use some of that with all the wonderful exciting weather!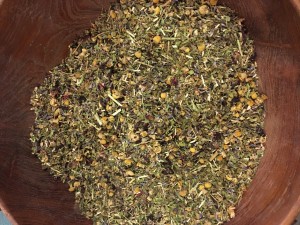 Sated Sensitive Denise Hays recommends enjoying the health benefits of herbal tea by incorporating these delicious beverages into your diet on a more regular basis. Moderation is key with any food or drink. So go ahead ~ brew up some delightful herbal tea today. There are so many BG Apothecary herbal tea blends to chose from – my favorite is a special one Diana made up for me it's a blend of Immuni-Tea with just the right amount of rosemary for that cognitive pick me up! I'm onsite at BG Apothecary most Thursdays from 1:15 to 4:30 – come on in I'd love to meet you! Let's talk about healthy living, nutrition, yoga, wellness or ? Have a great day!  Namaste,  Denise