It's not reasonable to push statistics aside for this game – to know that the LA Galaxy are one of the toughest teams in MLS you really do need to look at some statistics…
To be clear – they not only have one of the most potent team attacks in MLS they also have one of the toughest team defenses in MLS.
They are top of the table in my Composite Possession with Purpose Index and they just got back from Soundly Slapping the Seattle Sounders 3-nil.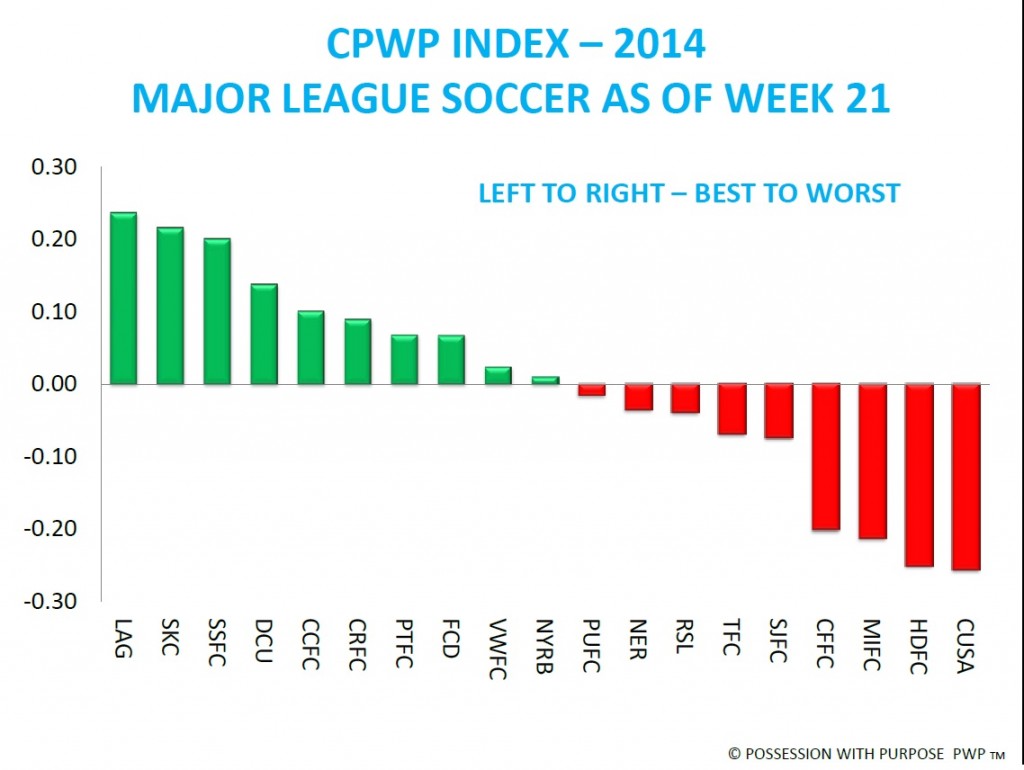 In attack they are 2nd best overall, as a team, this year; only Seattle has performed better, on average, throughout the year.
With respect to defending they are, again, 2nd best overall, as a team – only Sporting KC has performed better, on average, throughout the year.
To say that the Timbers will have their hands full in defending the Final Third is an understatement – and to say they will be severely challenged to put one in the net is also an understatement.
If there was ever an underdog going into a game, at this time, this year, it would be Portland going up against LA Galaxy in LA.
But that doesn't mean it's over even before the Ref blows at kickoff – hardly that.
I imagine the Portland Timbers will walk into Stubhub with one thing in mind – clean sheet and three points – it would be rude not too…
And as a supporter I too am hopeful they walk out of there with a clean sheet and three points!  RCTID….
So how does that happen?
The Timbers don't need to win the possession battle for the full 90+ minutes; they just need to have possession when they need to have possession… if you're a stats person the Timbers rarely win the battle of possession with LA.
In 2013 they won the possession battle once and that game resulted in a draw – the other two games they lost the possession battle but won both games.
In their two meetings this year the Timbers lost the possession battle both games but came away with one point in each of those games.
It's unlikely, and perhaps even tactically inappropriate, for them to win the possession battle this game – especially if history indicates less possession (limited less possession) is better.
So silly as it sounds what that really means is that Portland may cede "some" possession and limited penetration in order to create turnover transitions that see the Timbers attack facing an 'out of position' Galaxy defense – talk about a Chess match and setting traps… 🙂
That is not saying Portland will sit back and bunker down – that shouldn't happen even with a 1 goal lead… the minute you give away too much space LA will strike.
If in the lead, possession late in the game will be critical to control the game, the Timbers pedigree in possession and passing accuracy will be needed.
The early goal might not tell the whole story in this one…
What's some stray voltage in the game to keep track of?
No fouls by the Timbers in their own defending Final Third – pissing in your own backyard is inapprorpiate and shows a lack of discipline and poor positional play – the fewer the better.
Deeper Back-four – allowing penetration (controllable penetration) to the LA Galaxy is better than uncontrolled penetration.  A deeper line yields space outside the 18 yard box but allows better opportunities to clog the 18 yard box… that's a good thing provided the screaming volley's from 25 yards out don't occur.
Pressing high early on – this game should be pretty fast; I don't imagine pedestrian like ball movement – the slower the better I think for LA but Arena and Porter are both crafty – punch – counterpunch.
Tracking back to get behind the ball when losing the ball – numbers matter and the sooner the Timbers get behind the ball when they don't have the ball the better their chances for getting the ball back – if we see Gaston line up with Darlington on the wings again, this game, both those guys will be playing two-way; they will need to…
Substitutions – in all I think the bench is better for Portland than LA – and I'm not sure Robbie Rogers is up for handling pressure down his side at fullback.
Inverted wingers – both teams are good at this – don't be surprised to see left footed players on the right and right footed players on the left…
All for now…
Best, Chris
Retweets Appreciated!
COPYRIGHT, All Rights Reserved.   PWP Trademark