Montreal Impacted… Timbers Win!
If you watched the game you should know that the attack of Portland saved them again; and to be fair it's worthy to recognize just how effective this team was in attack.
It was their 7th most productive game in attack all year and comes on the heels of their 6th most productive game – in attack they had 83% passing accuracy (3rd best this year) with nearly 25 % of that possession coming in the Montreal Final Third (5th best this year).
All told that Final Third penetration resulted in ~24% Shots Taken per pass completed, with 45% of those shots taken being on goal (5th best this year) and 33% of those shots on goal netting a goal scored.
Pretty compelling team attacking statistics – all while the game was played away – two other games come to mind when considering that away result – the win versus New York and the win versus Chivas.
Two other teams also struggling to find their defense – in essence the Timbers should have won and they did…
There was another bright side to this game other than the Timbers attack and the three points taken.
I'll get to that, in a few, but first a walk down memory lane as a comparison on how things have progressed for the Timbers in Possession with Purpose since Week 4…
This is how the Timbers compared to everyone else in APWP after Week 4: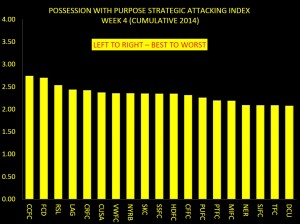 Basically they were experiencing a slow start and their attack was no better than 6th worst in MLS; fast forward to today and the differences are striking…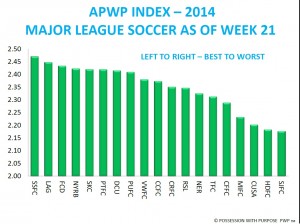 The Timbers are now 6th best in APWP and they've been steadily moving up all season.
What this means is that the Timbers have signficantly improved their passing accuracy, penetration, and creation of goal scoring opportunities that lead to better shots taken, more shots on goal and more goals scored.
For those keeping score Portland are tied for the lead league in goals scored.  But…  this game is not all about scoring goals – it's about preventing them too.
In winding the clock back to the end of Week 4 here's where Portland sat in Defending Possession with Purpose:
Mid-table in defending… neither good nor bad – just middle…  Fast forward to today and here's where they stack up: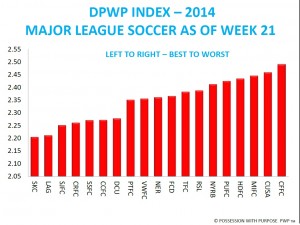 Slightly to the left of middle – the significant improvement in attack has not found it's way to the other side of the pitch.
But, it should be noted that the Timbers defending, as a team, has improved – so what was different about last night that has the light shining a bit brighter at the end of the tunnel?
A minor statistic for some, that may have gone unnoticed, was the number of fouls the Timbers committed in their own Defending Final Third – ZERO…
Believe it or not this is the very first time, this season, that the Timbers have committed no fouls in their own defending third!!!
For me, this speaks to discipline and complete focus by the team in knowing where they are and what approach they need to take to minimize the opponent's ability to load the box and have easier goal scoring opportunities…
I'm not sure why it took so long to get there but I'd imagine somebody had a 'word' and gave notice that fouls in the defending third are highly inappropriate…
And the nice thing about that correctable mistake is it doesn't take additional training time to fix – it's more about direction and clarity of purpose…
In closing…
I already voiced my thoughts on the superb team play of Darlington Nagbe and others during the game the other night; I said it then and I say it now…  Darlington Nagbe should/must be considered as a potential candidate for the #USMNT as this next year progresses…
There is simply no-one in MLS that can offer the threat he does on the dribble (with vision – how about that chip late on to get past two defenders???)…
With passing being the modern mode of ball movement in soccer these days the lost art of dribbling is unique and a threat like that, from Darlington Nagbe, should be leveraged…
Best, Chris
Retweets appreciated.
COPYRIGHT, All Rights Reserved.  PWP Trademark