Timbers Visit Red Bull Arena Saturday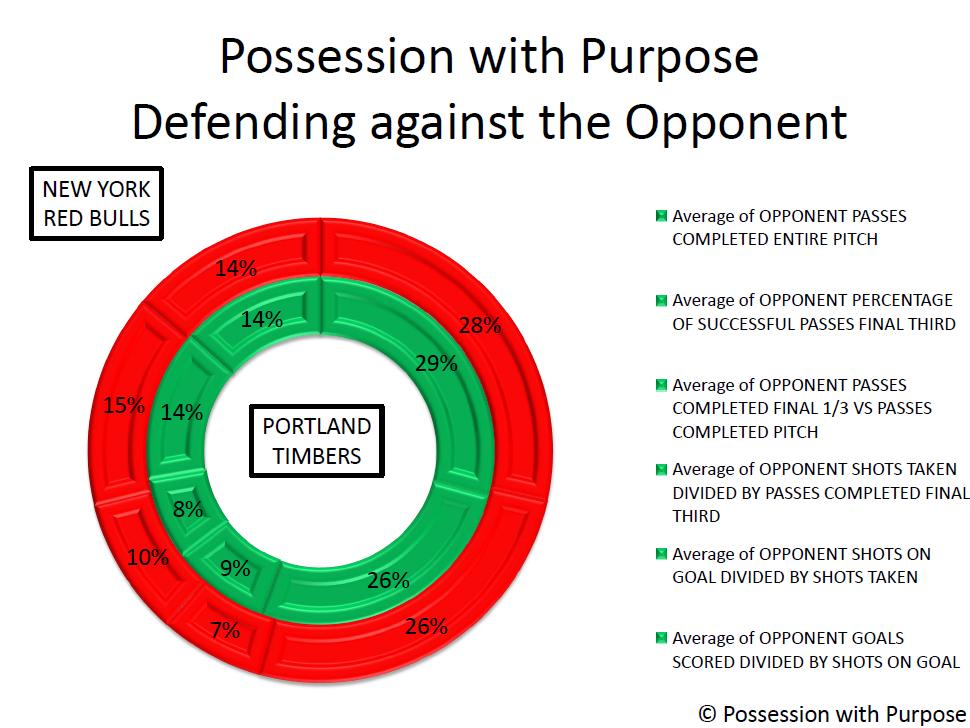 I could offer quite a bit about this game but will defer to just a couple of diagrams and a few observations to go with.
First the two diagrams…  if you want to know the logic behind these doughnut diagrams read here: and then read this article on Expected Wins.
If not then scroll down and buckle in for a short ride on some defensive realities for the two Conference Champions from last year….
Thoughts…
See where New York and Portland both show 14% in the top left section "Opponent Goals Scored per Shots on Goal".
Now take a look at the New England and Sporting diagram where New England has 11% and Sporting 10%.
What that means is both New England and Sporting face less danger in defending shots on goal that eventually become goals scored.  Less danger means less shots by volume, less shots by volume means the Goal Keeper doesn't have as much to do.
So the save percentage by Kronberg (69%) doesn't mean that much when seeing it is less than Ricketts (70%).
On the other hand the save percentage for Robles is 66%; with more volume of shots on goal that means more goals scored against; its 10 Goals Against for SKC and 19 Goals Against for New York.
This combined information translates to poor defending (across the entire pitch) for New York in comparison to Sporting and New England.
We already know Portland have lost 7 points due to Red Cards and PK's but New York have also given away 6 PK's…
So with Ricketts performing better in goal (70% saves), with the same relative weaknesses in defense, the statistics seem to indicate that Portland should win this game if they don't get a red card or yield a penalty kick.
That seems far too simple but in reality both teams are pretty strong in attack and the pain for both teams has been in the back-four – so really, whoever performs the best in the back-four should win…
Final thoughts…
New York average just under 30% success in offering up crosses – it's likely the Timbers will be defending against them quite a bit.
Thierry Henry is kinda like Robbie Keane – he also has a nose for goal – what are the odds he finds himself unmarked in the 6 yard box like Robbie Keane did? Hopefully pretty frigging slim!
Best, Chris