Are MLS Eastern Conference Teams weaker than Western Conference Teams?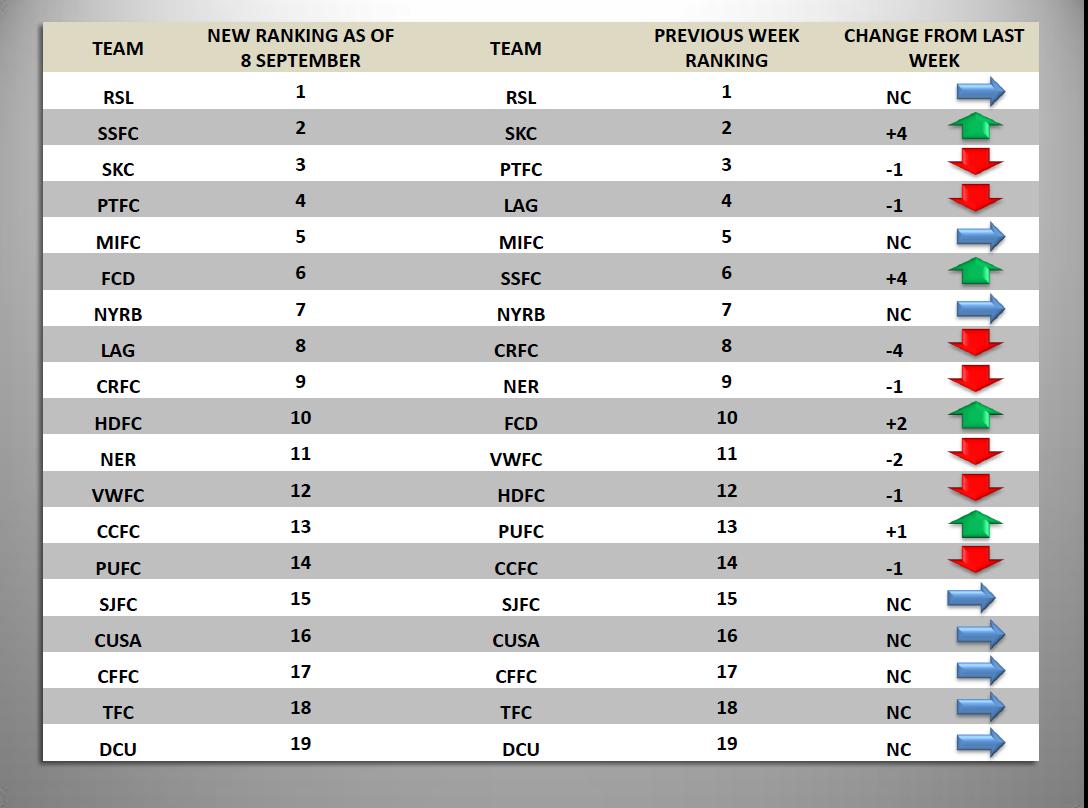 Are the Western Conference Teams "better" than their counterparts in the East?  
Two different views of empirical data for your consideration; the first showing the Rankings for all MLS Teams Possession with Purpose in the Final Third that also includes influence based upon Points in the League Table:
Observations:
6 out of the top 10 teams come from the Western Conference.
The bottom five teams remain unchanged from last week to this week with the bottom three feeders being Eastern Conference Teams.
Is there a trend that can be viewed without taking into account Points in the League Table?
Now for a different view (without influence from Points in the League Table…
This one looks strictly at the empirical data of my four primary Possession with Purpose Categories:
Possession with Purpose Entire Pitch Attacking
Possession with Purpose Final Third Attacking
Dispossession with Purpose Entire Pitch Defending
Dispossession with Purpose Final Third Defending
All of these categories take into account the volume and accuracy of passing,  shots, goals, and defensive activities by all teams across the entire pitch as well as specifically within the Final Third.
Here's the data points in raw form for your consideration (first to worst) with Total Efficiency Points provided beside Total Points in the League Table.

MLS POSSESSION WITH PURPOSE EFFICIENCY RANKINGS AS OF 8 SEPTEMBER 2013
Observations…
Again 6 teams from the Western Conference are in the top ten.
The team with the best combined efficiency rating across all four categories is Seattle; with Real Salt Lake and Sporting behind by less than 4 hundredths of a point.
The top five teams in the first ranking are the same top five teams (in slightly different order) in this Ranking.
It should be noted that the overall correlation of all these combined categories to points in the League Table is .8854 – that is an extremely good correlation.
Also of interest is that the correlation of Goals Scored for Eastern Conference teams to Points in the League Table is .9642.
The correlation of Goals Scored for Western Conference teams to Points in the League Table is .7809.
That means this combined efficiency data for Western Conference Teams has a better relationship in how those teams perform than Eastern Conference Teams and their 'Goals Scored' Correlation to Points in the League Table.
An intriguing statistic (based upon my data to date) is that Eastern Conference Teams (when playing the Western Conference Teams) have 25 wins, 20 Draws and 35 Losses.
Could the Eastern Conference Teams reliance on 'simply scoring goals' be putting them behind the power curve against teams in the West?
Philadelphia has the best record against Western Conference teams with 16 points while Toronto has just two; both draws against FC Dallas and LA Galaxy.
For me, the statistics seem to point towards the Western Conference being a more tactical/technical conference than teams from the East.
Could this higher level of competition be helping prepare Western Conference Teams to perform better against the East and therefore, give them a slight edge in the Championship game?
I'm sure there may be others who disagree but it seems to me that teams who get points in the Western Conference are doing it based upon an improved efficiency in possession with purpose and not just scoring goals.
It will be interesting to see how this statistical approach bears fruit when evaluating the Premier Leagues in Europe…
All for now – next up my Match Preview as the Timbers look to take three points as they travel to LA and take on Chivas USA…  Hopefully I will be able to offer some insight from one of the local bloggers there in LA; more later…