Major League Soccer – Final Third Efficiency Power Rankings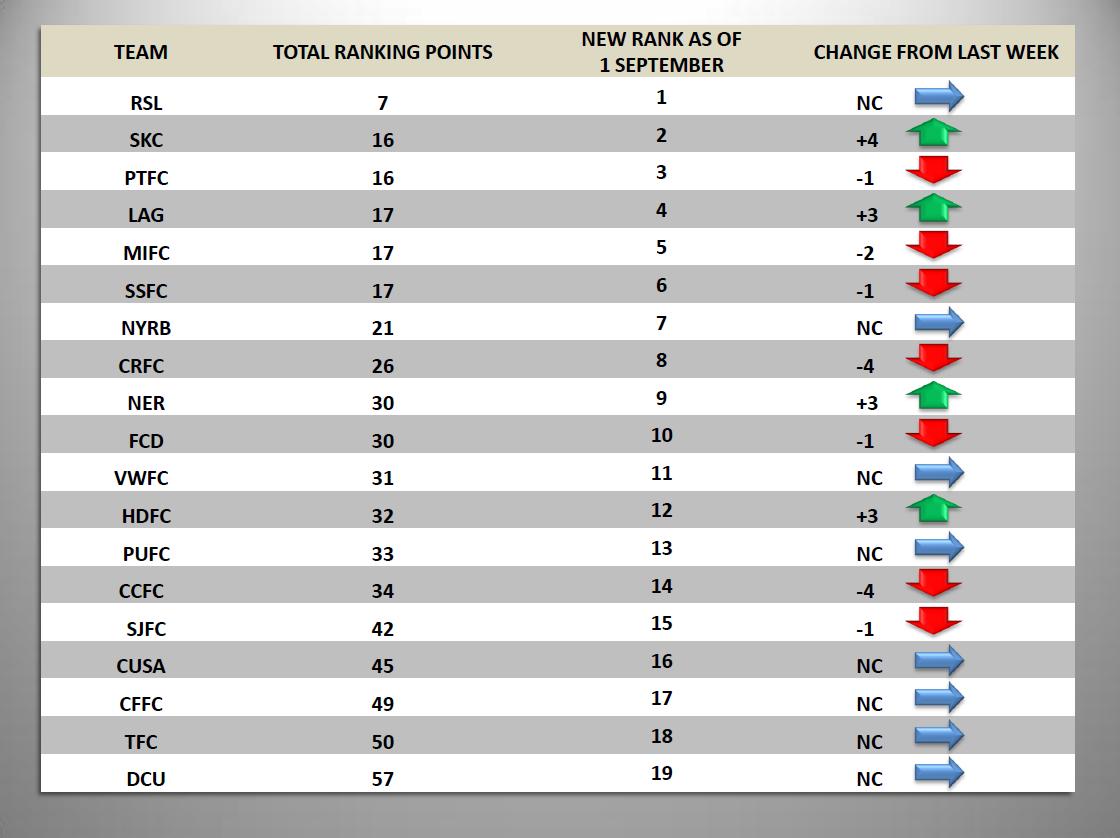 Here's my third week of MLS Final Third Efficiency Power Rankings as of 1 September, 2013…
Observations:  Prime Movers…
Sporting KC makes a big jump by slotting home two goals against a very strong Colorado team while Portland sees red at the half and drops three against Real Salt Lake.
Montreal also takes a slight dip this week given their 'no-goal' lack of output against a struggling Philadelphia squad while LA Galaxy continue to press to be the best…
As a reminder; this information is empirical and is not influenced by anything other than scoreline, passing and defending within the Final Third…
Although New York defeats DC United, it's not a worthy win when considering how poorly DC United have played this year; as such the statistics don't favor a win just for being a win…
Another mover who continues to climb the ranks is New England; this week is probably more down to what other teams near them didn't do as opposed to what they did; all three (FC Dallas, New England and Vancouver drew in their last game).
With respect to the rest Houston continued to reinforce the opportunity for making the playoffs by taking a point in Chicago.
MLS Passing and Shooting Rankings as of 1 September, 2103…
Observations:  Prime Movers…
Montreal and New York swapped spots in this weeks ranking while the Galaxy leapfrog both DC United and Seattle.

So in two different categories that is LA making a continued move towards the top spot.
The only other movement in this category is New England swapping places with Vancouver…
I offered this before and perhaps with this latest draw against Chivas (perhaps?) Vancouver is sliding out of contention; that should have been a three point output for the Whitecaps and it wasn't…
MLS Final Third Activities Correlation…
Observations:  
No "Prime Movers" here; this is offered to show what the current correlation is when evaluating all the PWP Final Third Attacking Indicators in relationship to each other…

.9772 is pretty bloody strong and while it may be a bit hard to see there are teams who fall way below others in overall Final Third activities.
They are: Chicago, Chivas, FC Dallas, Montreal, Philadelphia and Toronto… of those teams Montreal is by far the more successful in converting fewer opportunities into goals scored given their Points in the League Table.
How Philadelphia continues to do well pretty much comes down to their direct attacking style with two strikers (Casey and McInerney) who have formed a great partnership similar to what San Jose had last year with Wondolowski and (Gordon/Lenhart); will their luck continue to hold?
Note the top three teams in Passes completed in the Final Third are 1) LA Galaxy, Real Salt Lake, and Portland… all three teams still remain strong in Goals For versus Goals Against; the race is not over in the West…
The intriguing color popping up on this diagram is 'purple'; note that this one belongs to New England; they continue to rise in the points standings and are now beginning to score goals where they haven't done before.
In March they averaged .25 goals, April 1 goal per game, May 1.20 goals per game, June 2 goals per game, July 1.60 goals per game and August 1.60 goals per game… that is a pretty big change in goal average from March to August…
Next up match preview Portland Timbers v Toronto FC…