Match Preview – Portland Timbers vs DC United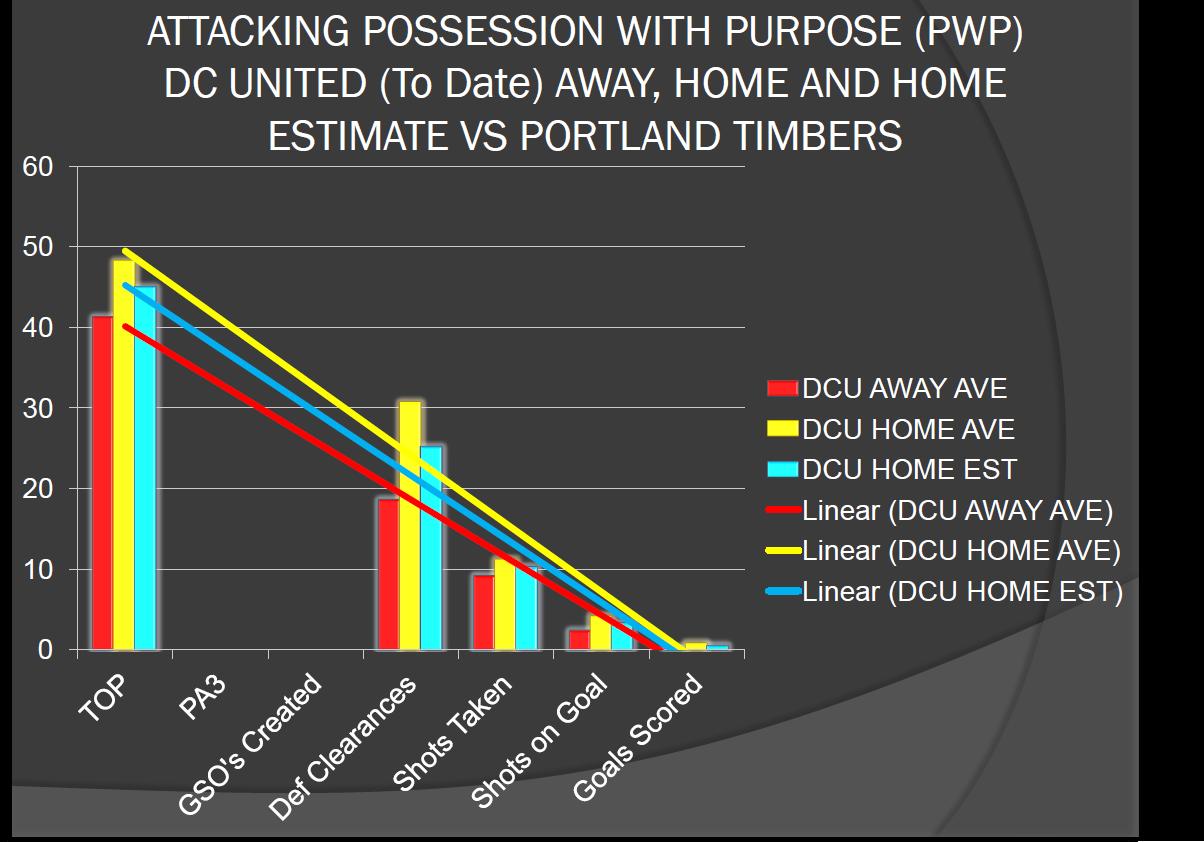 East Coast bound as Portland ventures off to RFK Stadium to play some Football in a Football Stadium?
I'm not sure I've tracked another away game that Portland has had in the near past that has so much going for it in terms of going in there and taking 3 points… a curse?  not likely… These are two teams going in different directions and the outcome from this game needs – really needs to be a statement from Portland.
To be honest I didn't think I would offer this up very much this year but an away point is just that – one point – and to secure playoff chances there need to be games (on the road) where one point is just not good enough – in this case, in this place, one point is just not good enough.  Portland need to go in and stamp their style of football on DC United…
So on to my routine…
RFK Stadium – A Football stadium for sure and the type of football most Americans enjoy.
What we won't see on the 25th of May are 60 minutes of football that take 4 hours to play, tons of commercials, sideline cheerleaders, a packed stadium, sideline coolers full of Gatorade, timeouts, player swaps based upon ball location, headphones on coaches heads, 45 players on the sideline, clock stoppages, replay booth officials, red flags from Head Coaches complaining that an 'official got it wrong', yard markers, and 7 (count them) SEVEN Referee's.  No Umpire, no Head Linesman, no Line Judge, no Field Judge, no Side Judge, and no Back Judge…
What we will see is 90 minutes (a real 90 minutes) of non-stop (one break), in your face, full speed, full contact, full-on soccer with no replays, played by 22 players whose every technical weakness is exposed to the world and where one error can cost a game.
There will be one Referee who runs the pitch with one on each sideline to track the ball and sometimes wave their flag when a foul might occur near-by.  The only other official in the game has the difficult duty of tracking minutes for added time and raising a number board to allow three, count them three, substitutions throughout the 90 odd minutes of play.  Did I say that the Referee, like the players is also totally exposed in showing every weakness they have in making a mistake that might impact the outcome of a game?
So tug your boots on, tie up your laces, cross that white line and kick some arse Timbers!
Weather – Sunny, with some wind perhaps and the low seventies – probably a bit humid.  So nothing really special to add here other than the surface is "Prescription Athletic Turf" – for the common folk that is simply called 'grass'…
Standings – Major Simplistic here…  DC United are at the bottom of the Eastern Conference Standings while Portland currently sits in Third – games in hand set aside…  History between these two teams means nothing – as Simplistic noted before they are different teams and it's a different year where Portland are a different side on the road…
Olsen will be preparing to play the Timbers like this was his most important game of the year… and for any head coach the next game up is the most important…  He will not want to see his team slack off after a worthy draw against Sporting KC last week…  the same can be said for Porter; going in they are both thinking the same things but looking to execute them in different ways.
Formation – I saw on Stumptownfooty, that their local pundit offered up that their team would probably go with a 4-2-3-1… that's one formation they might work to but they've gone out there in a flat-back 4-4-2, a diamond 4-4-2 and most recently a 4-4-1-1.
And after reviewing their formations in Home versus Away games I would offer that a 4-2-3-1 is probably the worst formation they could run at home.  The only occasion where they ran a 4-2-3-1 at home is when they got thrashed 4-nil by Houston.  In their other games running the 4-2-3-1 (Away) they lost 2-nil to Houston and drew nil-nil to New York.
A more successful formation (based upon their home and away tendencies) is a flat-back 4-4-2.  They used that formation against Real Salt Lake and won 1-nil and when running it against Philadelphia they scored 2 goals but gave up 3.
So while there may be some interesting trends in their attacking system/formation the most consistent part of this team has been their defense… it has been terrible.  In their seven game 'beaten' streak they conceded 17 goals and during that time they ran four at the back every single game…
So regardless of what attacking formation or system Olsen used it really didn't seem to matter a whole lot.
Goals Scored – My usual offering for your consideration on who the shot takers and targets are relative to their location on the pitch…
The ever present and dangerous Dwayne De Rosario is the obvious leader here in shots taken and shots on goal – the little number 7 can pop up on the right or left and usually settles in behind for free-kicks.  Chara and Will Johnson should have some good fun sharing marking responsibilities with De Rosario.
As for Pajoy; odds are he will start but Townsend did get a look in the other day as did Augusto; if Olsen opens up in a 4-4-2 I would imagine we see Pajoy pair up with Townsend but others may know better…
As for the big guys in the back; McDonald has pedigree with his head and is fourth on the team in shots taken; pretty impressive for a center-back and it says a lot on how much of a target he really is on set-pieces… Kah or Baptiste will have their hands full but with McDonald only being 6'1″ height should not be an issue – reaction time will be…
Curved Air – Much of their ball movement from Square 1 has to do with whether or not the game is at home or on the road.  In all six matches (2 each against SKC, NYRB and Columbus) they played far more short balls from Square 1 at home than on the road.  And during one road game against SKC they played just one ball short; all other 38 balls from Square 1 were played long.
As for the other teams they've played to date there is only one team (Real Salt Lake at home) where they attempted more short balls than long ones… with that overall trend I would offer DC United will probably look to start the game by playing short and then if the scoreline changes or Portland presses higher up the pitch they will look to put more balls further down range.
Here's how the Square 1 distribution looks from a Home and Away perspective…
Some thoughts…
For home games there is a clear tendency to try and play short balls from the back with the intent to try and control the game through possession; the odd ones out appear to be against teams (Real Salt Lake and Sporting KC) who are themselves very good possession based teams.
So there could be two schools of thought; begin the game with the intent to control and possess the ball or 'begin' the game with the intent to clog the midfield and disrupt play.  Hard to say but the first 2 fifteen minute increments should offer up what approach Olsen will try.
He already knows Portland can score goals and quickly at that – a cautious approach looking for that set-piece (the approach used by Vancouver) may be the approach taken by DC United…
Possession – Some basic info before climbing into some detail…  DC United average 45 minutes of possession per game – so they win some possession battles and they lose some possession battles.  Oddly enough in the seven game "beaten" streak they won the battle of possession five times… anecdotal information that again confirms the lack of correlation between winning points and winning possession.
So before offering up an estimate here's a diagram for your consideration on how DC United have performed (statistical wise) in Away games versus those played in RFK…
Now some thoughts…
Clearly DC United leverage the use of crossing much more at home than on the road; we already know that the formation doesn't seem to matter that much so what about the players?
Over the course of the season their most prolific crossers down their right wing are Kyle Porter and Chris Korb; and given info available to date it would appear that Korb overlaps regularly down their right side.  As for their left side; indications are that they don't offer up as many down the left but when they do it is again, a fullback (Woolard).
With this being a home game I would expect them to be balanced with a slight lean towards the right (our left); Harrington and Wallace should be in for a busy night and Harrington will really need to pay attention to their rookie Porter.  We saw last week that speed is huge and given Porter's volume of crosses this year he seems pretty good with his boot as well.
Of course there is always the turtle shell game; against Sporting they stayed home quite a bit and got a draw; sometimes when a team is struggling offensively a draw is just as good as a win.
With that here's their overall Attacking Possession with Purpose data points to date (Away and at Home) plus a rough Estimate on how things might play out on the 25th…
In taking a few minutes to digest this note that there is a clear difference in the overall attacking strategy for DC United when they play away from RFK and when they are home.
For me Defensive (Opponent) Clearances is the biggest indicator showing the overall lack of aggression on the road versus at home; we don't see that with Portland so these guys could go toe-to-toe like what occurred in Kansas City but I don't see Olsen pushing the game with so few points in the Eastern Conference table; for DC United, for now, one point is a huge point and a confidence builder.
Note like most other teams encountered this year the tables tend to balance themselves out as you get closer to goals scored.  There is a marked difference between these two teams though; Portland average 15 shots taken while DC only average 10.  Perhaps a reasonable scoreline for this game is DC United 1 Portland Timbers 2?
Defense – Throughout the entire season to date DC United have been pretty consistent in who starts in the back-four.  Korb and Woolard have been their Fullbacks while McDonald and Jakovic have been center-backs.  Ethan White has stepped in and has started two games so we could see a slight change there.
In there most recent game against SKC it was White getting the head nod over McDonald – I haven't been able to confirm if he is injured and indications are that he isn't so perhaps the move bringing in White was to try and shore up the back-four more defensively?
However sliced DC United have not had great success in getting shutouts; teams get plenty of shots taken, shots on goal and goals scored against DC United… I would offer it is reasonable that Portland will score at least one goal this game…
Wild Things – Jekyll and Hyde…   check this out.
As with almost every other data point viewed prior to this game there is a clear difference between how this team behaves at home versus on the road.  In five games on the road they have received 10 Yellow cards and average 3.5 more fouls than at home.
This is yet another indicator of a stop-start tactic to slow the game down and try to by time while looking to clog the midfield; no doubt this team would have taken exactly the same approach as New England or Montreal if they were visiting JELD-WEN.
So how about their home games??? In their win they fouled Real Salt Lake 17 times with one Yellow card; that game was a 1-nil victory where they ran that 4-4-2; otherwise there fouls conceded and Yellow cards are lower than their games on the road…  does that translate to them being timid; likely not – I would expect Kitchen and DeLeon to be very aggressive in looking to shut down Nagbe and Valeri.
Their co-leaders in fouls conceded (17) are Pajoy and Kitchen, fouls from Pajoy probably don't matter so much given his location on the pitch but fouls by Kitchen, and Caleb Porters knowledge of his game, might be a weak link that Valeri and Nagbe look to expose???
As for Yellow cards, again Kitchen gets the gold badge for aggression (3) while Pajoy and Jakovic are next up with 2 each.  Given that there do seem to be some indications that a free kick or two (in the attacking third) might be garnered for Portland sometime during the 90 minutes of play.
Substitutes – I have no clue for DC United – there are a number of players who have 100-300 minutes; Riley might make an appearance anywhere (he has played defender, midfielder and forward).  If not starting Saragosa might be a defensive replacement while Augusto might be an extra attacker if Pajoy and Townsend start up top…
With respect to Portland; we have seen Porter make substitutions based upon score-line as well as 'like-for-like' just to replace tired legs.  I am hopeful we continue to see subs get more playing time as this season progresses; Wallace, Johnson & Johnson and Ricketts can get called up for international duty and with those four guys being starters quality stand-ins are needed and you don't get quality stand-ins without giving them due care and attention in first team games…
From what I understand Portland have used the least amount of players in first team matches as anyone else this year barring Houston???  With 34 regular season games, plus cup games and other friendlies these guys will get tired as the hot weather rolls in…  Zizzo and Piq and Miller and Kocic and Alhassan and Zemanski have all had regular time prior to this year; those guys along with Valencia will need to be sharp this year for Portland to make a good run at the Playoffs and beyond…
In closing – It's not a curse to project a win… these guys should do well in DC and it should be a very entertaining game…
Set-pieces are wicked – especially against teams who have the majority of control in a game.
Through balls and speed also set the conditions for counterattacking goals.
Make no mistake DC United players are professional and unless Olsen has lost the locker room those guys will work hard to get three points.  No games are easy and Portland will have to work harder and smarter to get three points.
Portland are a strong attacking team based upon information to date.. .but statistics don't win games – players do.   Complacency can kick your arse and 'ground you' – here's hoping there were some really good takeaways from that Vancouver game as Portland travel to DC United…
Next Up Match Analysis…