Match Analysis – Portland Timbers 3 – Chivas USA nil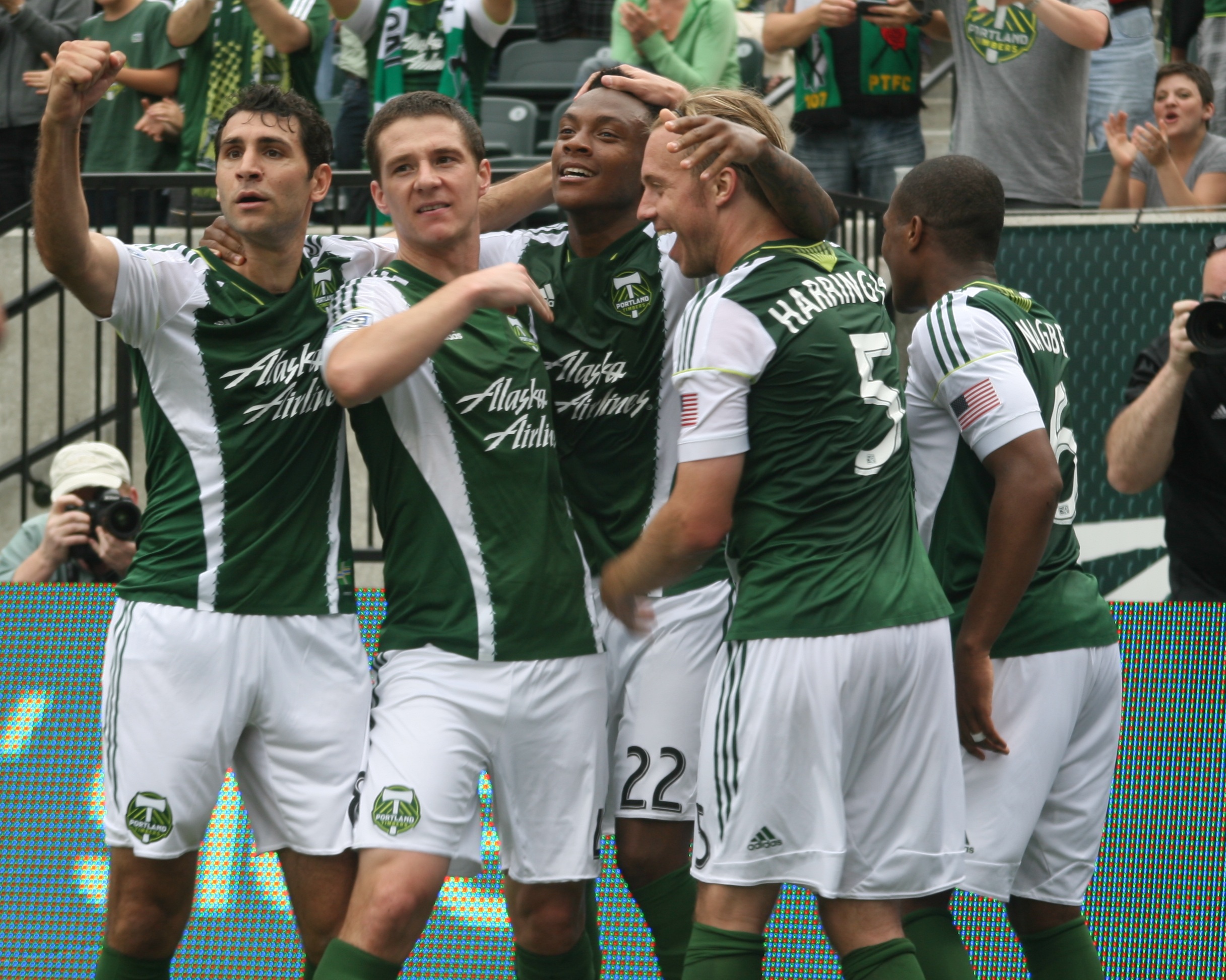 The word "comprehensive" is sometimes overused in sports punditry but for this game it's perhaps an understatement.  Before getting into the grist of this effort here's my recommendations for reading this week…
In case you missed it here's a report from Mike Donovan on the game with Soccer by Ives…
And here's another 'intriguing and worthy of delving into' writeup by theaxepdx…
You may have seen the front side of this picture in theaxepdx offering; so here's that picture and my report from a slightly different angle…
As duly noted in my match preview this could be a great match to build confidence from as Portland begin a three game road trip before a return trip to Portland and another markee matchup (televised nationally on ESPN) against FC Dallas.
But as Caleb pointed out in his postgame media conference; this is but one game in the regular season and the only game of importance coming up is the next one against Vancouver…  no disagreement here – and with the added grist of this being a Cascadia Cup match it helps afford a tone of 'one game at a time' for the fans as well.
So on to my analysis working from the same platform offered up in my match preview…
JELD-WEN – Another sell out crowd – with this one probably having a few additional Mothers joining the ranks than in the past.  I did offer  that Chivas could get just as much energy from the crowd as Portland – if they did it's hard to tell.  I'm not sure I've ever seen a more deliberate and focused attack and defense as what I saw yesterday – perhaps others have?
Tidbit… Courtesy of ChivasUSA here's a thought from Sola after the game…  "The atmosphere is great, this exactly what the world of soccer needs. I was glad to be part of it, even though we lost, it was still fun for the crowd," .  Class…  I like what this guy is trying to bring to MLS – gutsy move offering up a 3-5-2 this season even though they didn't run that system yesterday…
Weather – Bottom line here – not really a factor – it was a little bit humid but not in your face hot – overall a good night for footy and with the win and it being Mother's Day it was superb all around.
Standings – With this win Portland have now moved up to 2nd place in the Western Conference and it doesn't get any easier traveling to Vancouver this coming weekend.
Tidbit… Note that there are other teams with as many as two 'games in hand' (LA Galaxy and Seattle) so while the table offers up one view it is not a view with total number of games all being equal.
Formation – Im my match preview I did offer up that Chivas (if they were going to "slow play" and "park the bus") would operate out of the more basic 4-4-2 as opposed to the 3-5-2.
Tidbit… That indeed was the case – from the opening kickoff Borja and de Luna were lined up square with Valazques and Purdy while Burling was on the bench; and throughout the game those relationships did not change.  If of import to you it can be confirmed looking at the MLS "Formation" offered up in the Statistical Match Report.  It was a bit misleading for some since the roster provided to the press before hand indicated a 3-5-2.
Bottom line… Chivas never got their feet settled.  To put it differently Chivas never did get that bus parked – it seemed like they spent 90 minutes trying to parrallel park it and just never got there.
Goals Scored –  In my match preview I first had Chivas goals scored average at .75; I corrected that a bit later – their average this year was 1.33 – needless to say that average has gone down since this game.
Tidbit… Noted earlier is this analysis I made mention of Chivas opening up in a 4-4-2 as opposed to 3-5-2; with that move we not only didn't see Burling we also didn't see Villafana (their leader in assists).  Clearly Silo was sacrificing some attacking pressure to facilitate his team parking the bus… with Portland having two more games against Chivas I'd be willing to bet Silo reverts back to that 3-5-2 and gets Villafana back on the pitch.
In reading the tenor of his comments after the game my guess is tone, in this loss to Portland, is more a reflection on his regret in not working to the 3-5-2 as opposed to the 4-4-2; perhaps others have a different view?
As for Portland – well – ab-fab/brilliant/top-totty/the Dog's Bollocks! all great phrases or words to describe the outburst resulting from superb ball movement both on the counter and in the normal run of play.
Curved Air – It didn't take a rocket scientist to see that McLain launched from square one more often than the short ball to a defender – to be precise he offered up 22 past the midfield line and 14 short of it.  Again, another indication of their team trying to relieve pressure mixed with an attempt to slow play.
Tidbit… As for Mister Fantastic and Portland – they played only 5 of 27 balls from square one long… possession and possession with purpose.
Possession – and Possession with Purpose…
A number of statistics to offer here but first some observations in no particular order…
1. Baptiste had some significant freedom in wandering very high up the pitch yesterday and to quantify that here's a link to his OPTA chart on pass distribution…  I don't recall any central defenders ever getting that far forward (excluding free kick set-pieces) that often and it's a compliment to Baptiste that he has the confidence (as do the coaching staff) in his ability to venture that far forward.
2. Horst would venture a wee bit forward last year and even Futty got forward yesterday but if that much space opens up it is very good to see him push forward; of course the flip side is 'he better bloody well keep possession of the ball and make good on his passes'; it was that same venturing forward by Collin that led to the first goal by Portland in their match against Kansas City…  Kudos AJ!
3. Rotations, in case you missed it Nagbe and Valeri as well as Chara and Johnson (along with Nagbe) regularly rotated about the pitch in search of gaps and weaknesses and different match-ups throughout parts of this game…  It's rotational play like this that likens a 4-3-3 to a 4-6-0.  I didn't see Wallace and Johnson rotate as much as the other two but it should be noted that it was Wallace, in a traditional #9 location that fed Valeri, in a traditional #10 role-away that got Portland their second goal.
4.  There is another advantage to this as well… it allows players to rotate and take the odd 'moving rest' throughout a 90 minute game… no matter how good someone's motor is lactate acid will build up and break down muscles… seeing these rotations is cool and it's definitely not something that worked well last year.
5.  I'm not really a fan of singling out individual players all that much but it appears others seem to enjoy that so here's a blurb or two on Rodney Wallace.
6.  I continue to track the front runner in the NHL (+/-) statistic as it applies to MLS; the front runner for Portland remains Rodney Wallace.  I offered this up three/four weeks ago when he was at +5 and now he is at +8.  In considering how low goal scoring is in Soccer that seems an incredibly high number.
7.  So while others have just begun singing the praises of Rodney Wallace it's almost getting boring for me to offer up how well he has played this year.  I can offer up other players who have contributed key 'ingredients to the success of Portland this year but the 'hot player' in the press this week seems to be Rodney.
8.  As a pundit I think it is worth mentioning again that Rodney was my number 4 keeper from last year's team with only Jack Jewsbury, Darlington Nagbe and AJ Baptiste rating higher.
9.  To be clear though… there are 18-20 players on this squad who remain ready to engage as 'team players'… Rodney is just one guy on this team – and a team is what is needed to win games – so while I offer up these praises all these guys work hard and execute a game plan that needs 11-18 players – not just one…
On to Possession with Purpose and some "team" statistics…
First off – the diagram I like the best…
A couple of things…
1.  The overall difference between these two teams clearly shows in the far left pairing (CUSA1); Portland had their most efficient game this year outside of the away match to Colorado and while the separate statistics might not show it the overall efficiency for Chivas still exceeded that of San Jose in that away game draw we had and how well Houston performed 'collectively' as a team in that 2-nil victory at JELD-WEN.
2.  Anytime a team scores more goals they should become more efficient; with three goals scored by Portland it is good to see that the data also supports increased efficiency… it would be concerning to me, about the validity of this data, if the Timbers efficiency didn't come to the same level as that 3 goal outburst in Kansas City or that 2 goal come from behind draw in Colorado.
So how about overall penetration and creation of goal scoring opportunities for these two teams over the course of 90 minutes (seen in 15 minute increments)???
Here's where the true visual can best present the overall domination (comprehensive domination) that Portland had over Chivas USA yesterday afternoon.
From the viewpoint of Sola it should be blatantly clear that the formation (4-4-2) that he used to work this game was completely off-base.  While I don't know the average number of PA3 or GSO's for this team in their nine games before this one there were at least 7 games prior to this one where they had more shots taken, four games more where they had more shots on goal, four games more where they had more goals and seven games more where they had better possession.
The two worst games they have had this season have come against Sporting KC and Portland – both away match and in that 180 minutes of play they only generated a total of 11 shots with just 3 being on goal.
Bottom line for Chivas is that if you (Portland fans) think this game was a blowout – the game against SKC for Chivas was even worse.
Notice the time-frame between 15 minutes and half-time; Portland generated more PA3 and more GSO in that 30 minutes of play than Chivas did their entire game!
Perhaps something to consider — Portland takes the first 15 minutes or so to 'measure up the opponent' and then converts a brilliant counterattack to get their first goal…  I say that given how much rotation and isolation going on to test different match-ups this game.
Chivas then goes in at half-time; makes adjustments and comes back out for round 2.  15 minutes later Portland has readjusted and two more goals follow in the space of 30 minutes.  So while it appears there were 'just three goals' there is quite a bit of cerebral work going on behind the scenes to try and get different match-ups'; recalling of course that it was Wallace, in the middle – just atop the 18 – who slid through that lovely pass to Valeri rotating in from the left.  Those guys don't get to those positions willy-nilly…  there is method and purpose and Porter has significantly molded the mindset and thinking of these players to leverage every ounce they can to score a goal.
Wild Things – Two yellow cards for Chivas and again no Yellow's for Portland – more importantly no Yellow's for Diego Chara – his discipline and control had gotten a whole lot better and that early season trend on hitting last year's numbers is toast…  As for Chivas – it should come as no surprise that de Luna got booked again; that gets him tied with Velazquez at 4 and both trail Burling by one… perhaps those five yellow's also had something to do with Burling sitting on the subs bench yesterday?
Defense – No surprise in seeing Harrington rotate back to the left side – what was surprising though was seeing the overwhelming numbers of PA3 and GSO down the PTFC left – Chivas right; here's the diagram for your consideration…
In all fairness though the surprise shouldn't have been that big – when viewing their history to date Chivas (CUSA1) have run the 4-4-2 twice before, once against Columbus and in their win against FC Dallas.  In both of those games their primary entry point for attack based upon 'OPTA crossing data' was the right side.  Against Dallas they offered up 15 out of 24 crosses from the right and against Colorado they offered up 14 crosses out of 18 from the right…
In considering that – perhaps that is why we again saw Harrington rotate back to the left side?
So you know in most other games when they have run the 3-5-2 Villafana has had a big role (as noted in my match preview) on offering up crosses from the left.  No Villafana – not many crosses from the left and minimal variation…
Here's their distribution on goal scoring opportunities…
68% of their 21 goal scoring opportunities were generated from the right side as well – so even when they penetrated on the left or down the middle they still relied on their right side to create the overwhelming majority of their opportunities.
All told that simple approach is probably what made it easier to defend against Chivas – they were one dimensional in attack with no variation…
Substitutes – Two subs for Chivas that were probably more related to getting their players some playing time as opposed to any tactical decision to change an approach – Correa came in as a Forward and Ponce came on as a midfielder – if tactics were going to change it is likely Burling would have come on – perhaps he has a slight injury or something?
As for Portland – a worthy substitute for Jack Jewsbury – he's had many minutes of late and Zemanski was a worthy sub…  not much defensive activity but it's good for Zemanski to get some playing time – especially against his old club.
I also liked the Piq sub for Harrington – I think that was a 'cold water test' on how things might look with a 4-4-2… intriguing and it adds huge variation again for this team… nice sub Caleb!
Kalif coming on for Nagbe looked to me like a 'he's tired' and 'let's pull him off' more than anything else but chemistry is a funny thing and players with Alhassan's vision sometimes work really well together with workmanlike 'two-striker' formations…
In closing –
Portland have played better but perhaps in the mad adrenaline rush with such domination that gets lost… 11 games done and dusted – Portland are near the top of the table – this team at this point is a far better team than this team 'at any point' last year….
Tidbit… here's the PTFC attacking efficiency to date compared to PTFC Opponents played to date…
Next up a huge Cascadia Cup clash as Portland Timbers return to the location of their greatest and only away win last year!