Match Analysis – Portland Timbers 1 – FC Dallas 1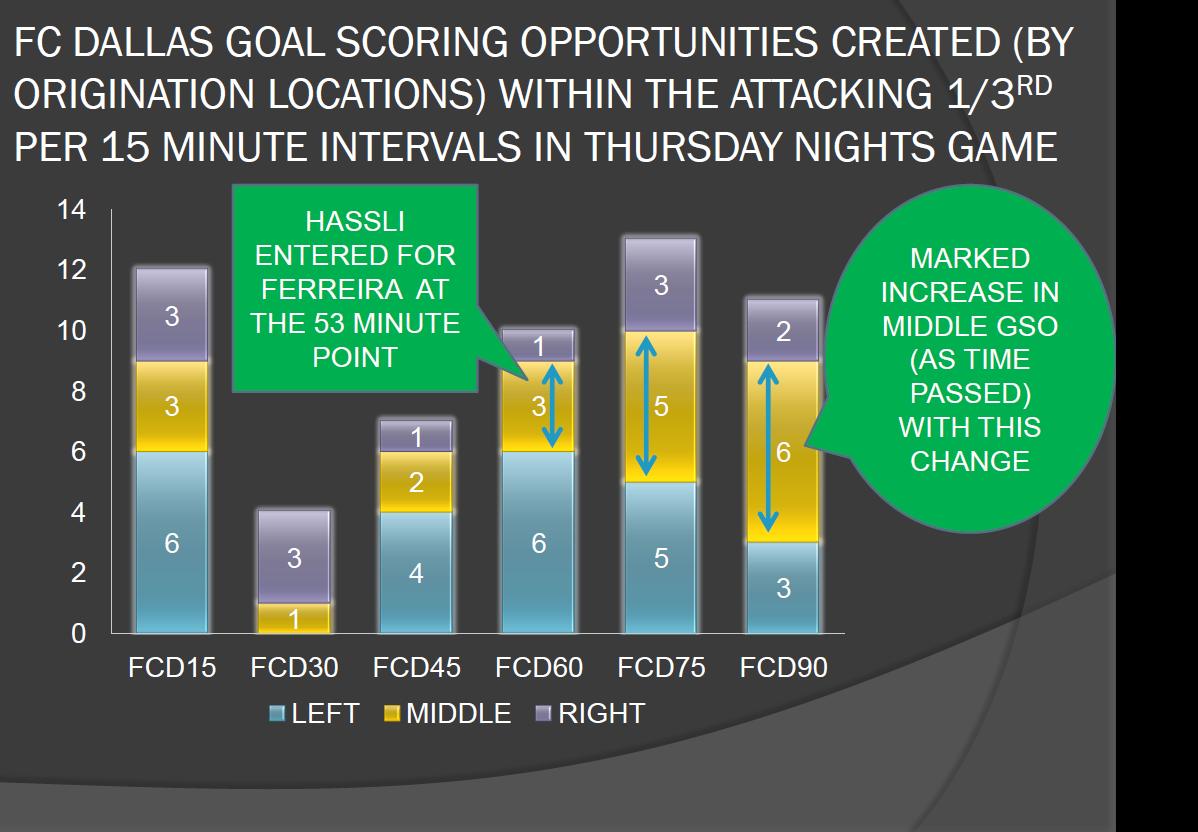 In offering today's match analysis I'm not going to repeat what most of you have already read by other great columnists here in Portland – Instead here's a link or three to articles I've read that already provide a good synopsis of the game in various different ways:
In summary…
Dan Itel does a good job covering games and offers up the quotes that got Caleb Porter fined from MLS this week…  some bite in those comments by Caleb but I would personally offer to him that he doesn't need to do that as it takes some juice away from those of us who like to pick on MLS Referee's – why – because we can and we won't get fined…  save your breath and money Caleb!
Kip Kesgard, the ever present and most knowledgable Timbers writer with the Oregonian, offers up a great summary of the game for your consideration…
And likewise, one of the most insightful blogs in Portland, theaxepdx, offers up another view on the game that weaves in some crafty thoughts and observations…
With that said here's my take on some details in this game working from the outline in my match preview…   
Weather – On another day in a different time of the year weather might impact a game more than it did Wednesday night.  Fortunately there was no gruesome heat – aye… it was a bit warm and humid but nothing like the scorching 95 degrees heat you can get, with no wind, in the middle of summer.  The final two games against FC Dallas come at JELD-WEN in June and August.
Standings – No change in points between FC Dallas and Portland; Real Salt Lake is now sandwiched between the two while LA remain on 14 points.  Bottom line here is both FC Dallas and Portland remain unbeaten in eight straight games…
Formation –  FC Dallas didn't change their formation/approach until Hassli came on; more later on that – for now though they ran their bog-standard 4-2-3-1 with Castillo doing a brilliant job of ripping Harrington down our right – their left.
Goals Scored – Easy one here… Nagbe tucks home a superbly placed (blind cross?) by Wallace — not so blind as many may think though!
I have seen many teams practice that very rotation (even at the U-11 level) so while appearing blind Wallace knows where Nagbe is going and he looks to get it there as best he can.  For Dallas the Capt. Obvious goal came 7 minutes later after another questionable judgment call by the referee.
As for the comment by Porter – misplaced frustration is what I would call it…  If the referee really was a '12th' man for FC Dallas then surely he would have given Chara a Red Card for that brilliant tackle on Ferreira's breakaway earlier on… no… this was a judgment call that simply went against Portland and Baptiste simply needs to learn to not tug shirts as blatantly as that…  another lesson learned in his Baptiste-ism by fire…
Curved Air – In my preview I offered up that FC Dallas played long balls from square one about 60% of the time.  In this game there were 25 long balls played from square one out of 38 possible (66%).  That's not a big difference from the average but there is a data subset that might be used to support the 'why'…  That data subset also happens to be the same one that supports the change in tactics when Hassli came on for Ferreira.
So here's the variation on where goal scoring opportunities were created by FC Dallas this game and what we can 'put in our pocket' about the next time we play them…
A marked increase from the point where Hassli came on and FC Dallas got settled.
Note also the overall difference between their left side and right side throughout the match; Castillo was clearly a primary target for penetration (along with Ferreira) and it's scary to think how this team might function with both Castillo and Jackson on the pitch at the same time.
Penetrations – So how about the overall PA3 and GSO for both teams?  Here's that diagram for your consideration…
To be clear – Portland had 47 minutes of possession while Dallas had 43…
Note the frequency in PA3 and GSO's between the two teams…  quite a contrast really.  Even though Dallas had less possession of the ball they had far more penetrations and far more goal scoring opportunities created.
That data supports the overall tenor of this game where Dallas was doing it's utmost to "get the ball, move it forward, and get it into the box" while Portland was trying to do their best to "slow the game down and pick their spots/times of penetration carefully".
Bottom line here was Porter had a sound strategy and the team executed well; if not for the PK award by the Referee that approach most likely would have won the day.
Tidbit…   So that is three basic away game strategies we have seen against five different opponents… Porter had to watch his team play more direct against San Jose, while he led them in playing a more passive/aggressive approach against Seattle, Dallas and Colorado while changing tack completely and going all-out aggressive against Kansas City…
If you recall last year Portland couldn't even play one approach correctly (no matter who the head coach was) – the evidence of repayment continues.
Here's the overall penetration by Portland since day 1…
As with this entire season variation in penetration continues to remain a strong point with Portland.
So not only does Portland offer up variation in their (tactical) approaches to away games  they also continue to offer up variation in their penetration…
And oddly enough the only game where Portland dipped below 30% PA3 on the wings is when they lost to Montreal.
As for where PTFC generate their goal scoring opportunities; I'll hold that back and instead offer up more detailed info on Dallas; here's their distribution on penetrations in comparison to other PTFC foes.
NOTE:  As a reminder; these data points are offered up from the Opponents perspective; so when seeing the high amount (57%) of PA3 for FC Dallas that points to our right fullback defensive side not our left.
Clearly, and if most saw the game, Castillo poked, prodded and usually passed Harrington down that wing; in another year or two, when this guy gets real time under his belt, he could be dangerous.  He (Castillo) had what I would consider were at least two 'sitters' that he blew with the most obvious being that cross to no-where instead of driving a shot low and hard to the far post…
Tidbit…  Bottom line for me is I remain unconvinced that this back-four is as solid as the results show; Ricketts has been absolutely stellar and his Mister Fantastic saves are more a result of him being appropriately placed to make a stop as opposed to a 'collective-save' by the back-four.  And if not for that superbly timed tackle by Chara this game would have had a different complexion; both Baptiste and Harrington were smoked by the slow footed Ferreira.
Overall the back – four was very disorganized and Silvestre's leadership was clearly missed; Kah needs to be brought up to speed as soon as possible!
So how much pressure did FC Dallas apply?
Here's their Adjusted PWP data added with the other PTFC opponents this year…
FC Dallas is the red bar in this diagram and the light blue bar to the left of that is the overall average of PTFC opponents to date.
While Dallas didn't possess significant time on the ball they were just as aggressive as Portland was against New England last weekend.  This was a tough match and Dallas outperformed Portland on many areas of the pitch.
If you recall last week many offered up that Portland dominated New England and they should have won the game which meant New England was 'lucky' to walk away with a point… I would offer that that view is the same with this game only Dallas was on the 'dominating side' and Portland were lucky to walk away with a point; perhaps others have a different view?
With that here's the overall picture on Possession with Purpose compared to MLS Points Awarded (to date):
The correlation continues to hover around .74 – the closer to "1" the better the correlation.  It has hovered there for over three weeks now…
Tidbit…  What is reinforced (for me) 'again' is how efficient Dallas was in their game versus Portland and how truly fortunate Portland was to walk out of there with one point; on another night (Montreal) we got beat and Montreal was less efficient than Dallas!
Aye; Portland led 1-nil for about 7 minutes but it just shows how twisted this game is where a team can completely outperform another but fail to win the bottom line; we saw that work against Portland in their match against New England and now we saw that work for Portland in their match against Dallas.
In closing…
J.d. Commando submitted a question to me today about Kalif Alhassan, Does CP keep Alhassan or does he look to move him?  Additional questions followed asking about his skill level and desire…
That's a great question and here's my offering for your consideration…  in no particular order…
1.  No doubt Kalif Alhassan has some of the best foot skills on this team; he can create magic and I think sometimes his vision is quicker than the ability of some of his teammates.
2.  That being said there are two sides to this game; attack and defend and like others (perhaps many others?) I sense that Kalif just isn't switched on to the defensive side of this game – there could be two reasons for that – 1) he's just not geared to defending or, 2) he sees an attack for what it is – reads the situation quickly and makes a judgment call on whether or not he needs to engage – being somewhat young that judgment call might not always be correct.
3.  Kalif is not blessed with great foot speed so other players with more speed might 'appear' to do more but actually do less – I have seen that with players as young as 11 – some players just burn a whole lot of energy and get nowhere for it.
4.  Striking – to date Kalif has taken 9 shots on goal with 2 on target and no goals scored – he has had good playing time – about 1/3 of the regulars but Rodney Wallace had had less playing time and greater success with his teammates on the pitch (chemistry) than Kalif.
5.  He did get playing time Wednesday night as Sal Zizzo sat on the bench; perhaps that is Sal playing instead of Kalif if he is 'match fit'?
6.  This past summer I was told that the team had offers for Kalif to go on loan but with his injury towards the end of the season that was kicked into touch.
7.  How the rest of the season and his playing time unfolds is unclear at this time but one thing is for sure; Caleb Porter did not mince words nor delay actions that changed personnel on this team – and to the point Hanyer Mosquera is not here and his roster slot still remains…  if Caleb Porter wants to move Kalif he will…
8.  For me; I'm a firm believer that for a squad to be successful they need to have different skills and different types of players available to maximize variation – the greater the flexibility the head coach has in who he can select to play the stronger this team is throughout the course of 34 regular season games and however many 'cup games' come our way.
9.  As for his desire; I won't personally question any players desire – there is no doubt he desires to be here and no doubt he desires to do his best – how we internally process what we see as lack of desire in one way might manifest itself differently if we were to walk in his shoes.  The guy has talent, can play and is professional – appearances in football can be deceptive – most everyone felt that Portland did a great job against Dallas and deserved to win – for me I disagree based upon what I saw and what the data offered up.
10.  Neither view is wrong really but the balance that gets struck between strengths and weaknesses of some players versus others has to do with what others offer in comparison to what Kalif offers.   I personally don't foresee Kalif being moved anytime soon unless the financial transaction benefits Portland – in that case anyone is probably up for a move outside of Jack Jewsbury…  I remain convinced he brings certain skills to the pitch that others don't – if another player can be brought to the team with those same skills 'plus' being a box-to-box guy then perhaps he does move.  But I would offer that if a player comes to this team with his foot skills and vision 'and' can play box-to-box he will be a hell of a lot more expensive than Kalif.
I'm not sure if that answered your question very well J.d. but for now those are my thoughts…
Last and certainly not the least…
Mister Fantastic – Donovan Ricketts – For the third week in a row and FIFTH time this year Donovan has taken MLS Save of the Week; here's the article from PTFC.
Next Up – Match Preview Portland Timbers vs Chivas USA…