Trend reversal: more WA men voted this election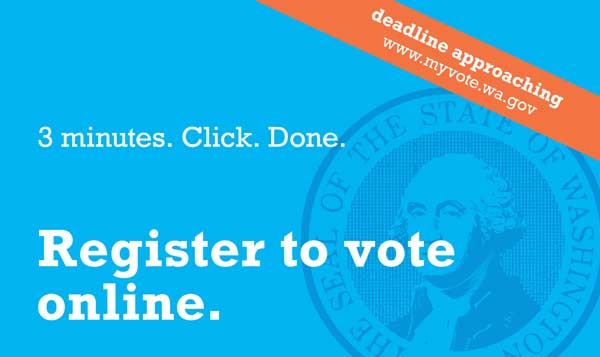 The Washington secretary of state's office compiled statistics showing voter participation by voting age population (which is not the same as registered voters, it includes people who are eligible to vote – many don't register) in the 2014 general election.
To me, the first thing that always stands out is the low voter turnout: Only 12.8 percent of eligible voters ages 18 to 24 voted!
But when you compare the 2010-2013 election breakdown to this year's general election, there's another interesting tidbit hidden in the numbers; A higher percentage of the male voting population in every single age group voted this election compared to their female counterparts.
Bryan Zylstra, the deputy communications director with the secretary of state's office, pointed out that in 2010-2013 elections, when comparing the voting population, it was the opposite (with more females voting) except for one category: the 65 and over group.
"Why was there a higher percentage of the male voting age population voting this year? I haven't seen any analysis on this, but one possible reason is the two gun initiatives on the ballot," Zylstra wrote in an email.
Take a look:
Votes Cast vs. Voting Age Population 2014
| | | | | |
| --- | --- | --- | --- | --- |
| Age | Gender | Number of Votes Cast | Est. Population | Percentage Voted |
| 18 – 24 years | Female | 40,629 | 320,123 | 12.69% |
| 18 – 24 years | Male | 43,732 | 338,376 | 12.92% |
| 18 – 24 years | UnKnown | 101 | | |
| 18 – 24 years | Total | 84,462 | 658,499 | 12.83% |
| 25 – 34 years | Female | 94,082 | 472,708 | 19.90% |
| 25 – 34 years | Male | 104,525 | 494,305 | 21.15% |
| 25 – 34 years | UnKnown | 119 | | |
| 25 – 34 years | Total | 198,726 | 967,013 | 20.55% |
| 35 – 44 years | Female | 128,612 | 450,016 | 28.58% |
| 35 – 44 years | Male | 138,502 | 459,666 | 30.13% |
| 35 – 44 years | UnKnown | 138 | | |
| 35 – 44 years | Total | 267,252 | 909,682 | 29.38% |
| 45 – 54 years | Female | 186,962 | 475,074 | 39.35% |
| 45 – 54 years | Male | 195,952 | 476,513 | 41.12% |
| 45 – 54 years | UnKnown | 156 | | |
| 45 – 54 years | Total | 383,070 | 951,587 | 40.26% |
| 55 – 64 years | Female | 246,857 | 466,547 | 52.91% |
| 55 – 64 years | Male | 264,952 | 445,572 | 59.46% |
| 55 – 64 years | UnKnown | 218 | | |
| 55 – 64 years | Total | 512,027 | 912,119 | 56.14% |
| 65 and over | Female | 319,052 | 534,539 | 59.69% |
| 65 and over | Male | 353,748 | 443,547 | 79.75% |
| 65 and over | UnKnown | 306 | | |
| 65 and over | Total | 673,105 | 978,086 | 68.82% |
| Grand | Total | 2,118,642 | 5,376,986 | 39.40% |
Votes Cast vs. Voting Age Population, 2013 information
| | | | | |
| --- | --- | --- | --- | --- |
| Age | Gender | Number of Votes Cast | Est. Population | Percentage Voted |
| 18 – 24 years | Female |  33,534 |  317,705 | 10.56% |
| 18 – 24 years | Male |  30,169 |  337,152 | 8.95% |
| 18 – 24 years | UnKnown |  49 | | |
| 18 – 24 years | Total |  63,752 |  654,857 | 9.74% |
| 25 – 34 years | Female |  79,804 |  466,623 | 17.10% |
| 25 – 34 years | Male |  68,732 |  486,728 | 14.12% |
| 25 – 34 years | UnKnown |  99 | | |
| 25 – 34 years | Total |  148,635 |  953,351 | 15.59% |
| 35 – 44 years | Female |  110,421 |  448,952 | 24.60% |
| 35 – 44 years | Male |  99,049 |  458,725 | 21.59% |
| 35 – 44 years | UnKnown |  144 | | |
| 35 – 44 years | Total |  209,614 |  907,677 | 23.09% |
| 45 – 54 years | Female |  165,720 |  477,874 | 34.68% |
| 45 – 54 years | Male |  152,047 |  477,811 | 31.82% |
| 45 – 54 years | UnKnown |  153 | | |
| 45 – 54 years | Total |  317,920 |  955,685 | 33.27% |
| 55 – 64 years | Female |  232,881 |  458,024 | 50.84% |
| 55 – 64 years | Male |  210,837 |  437,604 | 48.18% |
| 55 – 64 years | UnKnown |  224 | | |
| 55 – 64 years | Total |  443,942 |  895,628 | 49.57% |