Lt. Governor Jim Moeller 2016?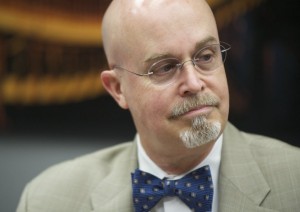 A rumor was swirling that Rep. Jim Moeller, a liberal Democrat who holds the second most powerful seat in the House, wouldn't run for re-election in 2016.
When asked if it was true, Moeller responded, "It's a rumor."
Me: So it's not true?
Moeller: It's not true.
Me: Well, where do you think the rumor came from?
Moeller: I started it.
Right, OK, then.
Moeller: "It's not true, because, I don't know … There are a lot of ifs."
"I think quite honestly people are looking for openings in the bench, the Democratic bench is deep," said Moeller who was recently elected to his seventh term in the state House.
But at this point, he said "I'm running for re-election in 2016."
It appears the biggest 'if' is whether the Lt. Gov. Brad Owen decides not to run again and opens up a statewide seat. It's a seat Moeller would be interested in.
"I like presiding," he said.
Despite there being a lot at play, there is one person who is ready to get off the bench: Temple Lentz.
"I'm interested in the possibility of it," Lentz said.
The Lt. Gov's spokesman said Owen has not said anything about his 2016 plans.
Lentz, of course, is not a political newcomer. She ran Tim Leavitt's campaign for mayor in 2009, she tried to succeed Jim Jacks in the House in 2011, she was a freeholder and she tried to replace Clark County Commissioner Steve Stuart.
And she has long been an observer of Washington state politics, check out The 'Daily Couve.
"It would be based entirely on whatever Jim decides to do," Lentz said "If it's an open seat I'm considering going for it. I'm certainly not looking to challenge Jim Moeller."