Presidential candidates get plenty of donations from Clark County
For every person living in Clark County in 2012, $8.15 was given to a presidential candidate, according to the Washington D.C.-based Sunlight Foundation.
In fact, when compared to other counties across the nation, Clark County lands in the 70th to 90th percentile regarding per-capita presidential election giving. Here's what that looks like on a map: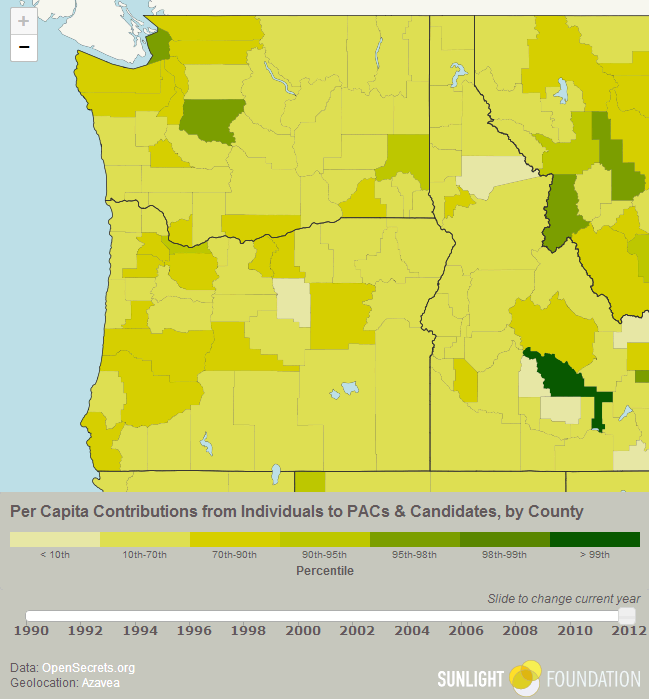 In the 2012 presidential race, Clark County individuals donated more than $3.5 million. Of that, $4,050 went to third-party presidential candidates, the data shows. You can read more about the Sunlight Foundation's analysis here.
The analysis also shows that Republican presidential candidates received the most money from Clark County individuals in 2012. In Clark County last November, Democrat Barack Obama received slightly more votes than his Republican challenger, Mitt Romney. The finally tally was 93,382 votes to 92,951.
How do we stack up with our neighbors to the south, Portland's Multnomah County? There, individuals gave about $10.4 million to presidential candidates in 2012, which is $13.66 per resident there. Individuals in Multnomah County gave a combined $24,607 to third-party candidates.
Meanwhile, in Washington's most populated county, King County, individuals donated more than $41.5 million, or $20.70 per King County resident. Also, individuals in King County gave a combined $11,000 to third-party candidates.
A majority of money coming from individuals in King and Multnomah counties went to the Democratic presidential candidate.
The Sunlight Foundation's analysis includes individual donations made to political action committees, or PACs, that support presidential candidates. For disclosure purposes, I worked as a reporting fellow at the Sunlight Foundation for seven months in 2011.