Washington Post: Herrera Beutler sided with Republican leadership on 6 of 7 key votes this year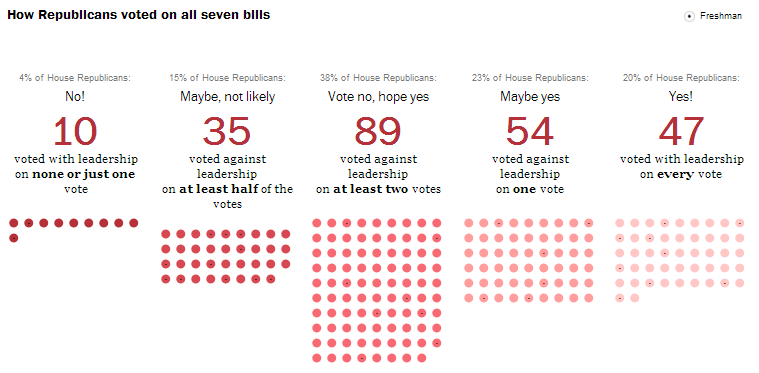 U.S. Rep. Jaime Herrera Beutler voted with her party leadership on six of seven key proposals this year, according to an analysis conducted by the Washington Post.
According to the Post, the Camas Republican is considered one of the "maybe yes" House Republicans who "are almost always going to be behind the leadership unless there is a specific issue in their district (or their personal belief system) that keeps them from saying yes." That group makes up 23 percent of House Republicans, the Post says. 
Herrera Beutler defied House Republican leadership when she voted against a key bill early this year to extend the debt limit for three months. That bill, known as the No Budget No Pay Act, also mandated that members of Congress have their pay withheld if they didn't pass a budget by April 15 this year.
Herrera Beutler voted in agreement with her leadership on the six other key bills. Those were measures to:
Choose Republican John Boehner as Speaker of the House
Pass the so-called fiscal cliff bill, which extended Bush-era tax cuts for people making $400,000 or less a year, and allowed the budget sequester (across the board federal spending cuts) to move forward
Spend $10 million on disaster relief for those hit by Hurricane Sandy

Reauthorize the Violence Against Women Act, which helps pay for the prosecution of criminals who commit violent crimes against women

Advance a June farm bill that would dole out $940 billion for farm programs and food stamps
Advance a July farm bill that excludes money for food stamp programs
In March 2012, the Political Beat reported that Herrera Beutler appeared moderate when compared to all members in the U.S. House. According to the nonpartisan National Journal magazine, based in Washington, D.C., Herrera Beutler ranked 222 on the conservative scale out of 435 lawmakers in the House. That ranking put her in the 52nd percentile for conservative philosophy.
At the time, Herrera Beutler's spokesman said the National Journal ranking provides independent proof that the representative "puts the needs of her district above her party."
Meanwhile, an analysis of the bills Herrera Beutler has sponsored in Congress places her in the "centrist" category. That's according to the website Govtrack.us.