Group asks Herrera Beutler to support extending background checks on gun purchases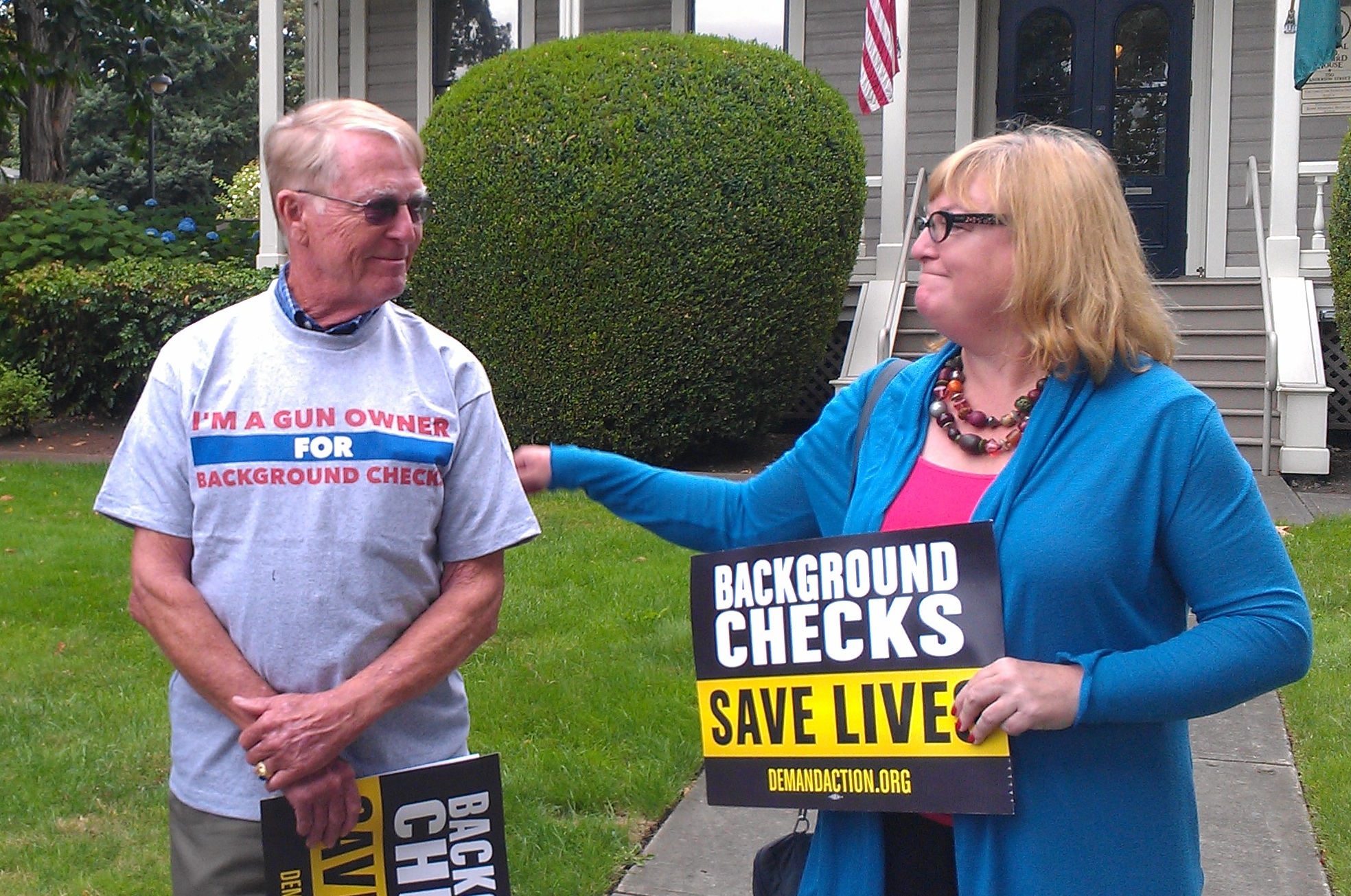 A shooting victim and other advocates visited U.S. Rep. Jaime Herrera Beutler's Vancouver office on Wednesday, asking her to support universal background checks on gun sales.
The group delivered seven backpacks to the Camas Republican's office, symbolizing the seven children who die each day from gun violence, they said. The packs were filled with signed petitions.
One of the advocates participating was Cheryl Stumbo, a victim of the 2006 Jewish Federation shooting in Seattle. Stumbo's niece was the girl held at gun point by the shooter as he gained access to the building. Stumbo's colleague was killed, and the wound Stumbo suffered sent her to the hospital for weeks.
"Over the following three years, I underwent a total of 20 surgeries, and (Post Traumatic Stress Disorder) therapy," said Stumbo, of Seattle. Unlike in the movies, she said, "You don't just get the bullet taken out of you and rest up for a couple of weeks and go back to work."
Stumbo said she came out of the experience supporting more background checks for gun purchases. She supports "making it harder for dangerous people to get access to guns. If we make it harder, less of them will get their hands on them and less people will suffer what I and my family and coworkers suffered."
She was joined by her father, Stan Stumbo, a Republican, former member of the NRA and an owner of eight firearms.
"I joined the NRA in the 1950s and the safety training and the marksmanship in the NRA taught me enough that when I joined the Navy I was certified as an expert on both hand guns and rifles," he said. "I believe that the NRA has gone off the rails and that they should be for universal background checks for all gun purchases. I also don't believe anyone needs a 50-round magazine to go hunting with, or to go target shooting."
In all, about 10 advocates were there to drop off the backpacks with Herrera Beutler's staff. They asked her to support the King-Thompson bill in the House. The bill would require background checks when buying a firearm at a gun show, on the Internet or through a classified ad. The bill makes exceptions for gun transfers between friends and family members.
Herrera Beutler's spokesman said by email today that Herrera Beutler isn't committing to any background check changes at the moment.
"She would need to study the specifics of any gun control proposal brought before the House for a vote," Casey Bowman wrote in an email. "She would need to see that it would be effective, affordable, and consistent with the protections offered by the Constitution."
Bowman didn't say what Herrera Beutler thinks of the King-Thompson bill, and he suggested that it didn't have much of a chance in the Republican-led House.
"House leadership has said that the Senate would have to originate any such gun control proposal," Bowman wrote. "In the House, the King-Thompson bill was introduced as a mirror to the Senate gun control bill, Toomey-Manchin … the Toomey-Manchin bill was defeated with bipartisan opposition in the Senate, and the House leadership said King-Thompson would not be considered at that point."