Herrera Beutler's staff speaks to immigration reform advocates (with video link)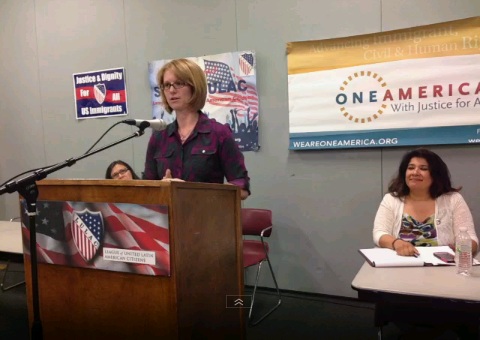 A representative from U.S. Rep. Jaime Herrera Beutler's office told a group of immigration reform officials last week that the 3rd District congresswoman is committed to working to fix the state's broken immigration system.
Pam Peiper, a staff member in the Camas Republican's Vancouver Office, made the remarks Aug. 23 at a town hall meeting sponsored by immigration reform advocates.
"It's clear the outdated laws have created severe deficiencies, backlogging of legal immigration and negatively impacting families, communities and businesses throughout Southwest Washington," Peiper told the group. "The federal government has a constitutional duty to secure our borders and uphold the rule of law, but as a Hispanic American, Jaime believes it is critical we protect our nation's tradition of openness for those who want to come here, work hard, create a better life for themselves and for their families."
Herrera Beutler was not in attendance. She taking a break from much of her congressional duties to stay with her newborn daughter, who is treatment in a California hospital. Her daughter was born prematurely, and without functioning kidneys.
Peiper also said Republican leadership in the U.S. House of Representatives plans on tackling immigration reform piece by piece, rather than including everything in one bill, which was the Democratic-led Senate's approach. One advocate at the town hall said a piecemeal approach to immigration reform could derail momentum and mean some reforms are put off indefinitely.
Watch the whole town hall meeting by clicking this link. (I can't embed the video, unfortunately.)
Similar town halls have taken place in other parts of Washington state, including Yakima and Spokane. Event organizers include the immigration advocate group OneAmerica and the Service Employees International Union. They are calling for reforms that create a pathway to citizenship for the estimated 11 million people who live in the U.S. illegally.