Pro-CRC group required to submit donor list after all
The Columbia River Crossing Coalition, a private group that has spent more than $30,000 on ads supporting the Columbia River Crossing project, does have to disclose a list of its donor groups to the state Public Disclosure Commission, Page Phillips, a Portland-based consultant for the CRCC, said.
Phillips, who says she isn't well versed in the state's lobbying disclosure rules, initially thought the Columbia River Crossing Coalition did not need to provide the list. After The Columbian asked the PDC whether the CRCC needed to provide a donor list, the PDC contacted Phillips to ask her more about the group and then determined that she did need to report donors, PCD spokeswoman Lori Anderson said today.
Phillips submitted a list of more than 40 donors groups to the CRCC, including the Association of Washington Business, Tri-Met, Intel, the ports of Longview and Vancouver, and the Columbia River Economic Development Council. Here's the list of donors (click the list to view it in a separate window):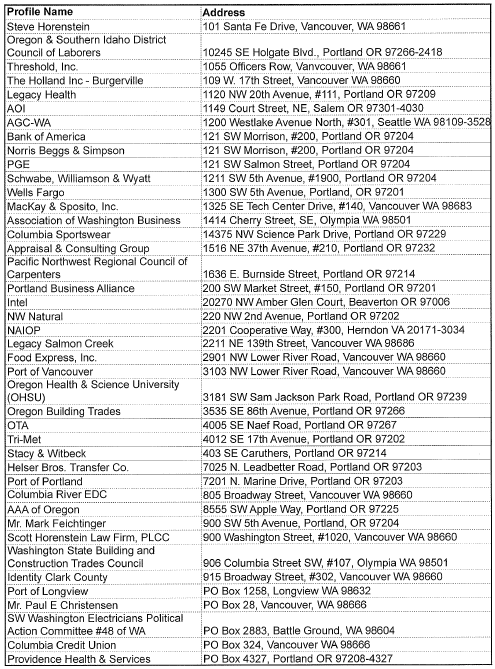 Phillips said she registered as a lobbyist for the month of April because she found she was spending a significant amount of time advocating in Olympia for the $3.4 billion Interstate-5 Bridge replacement project.
Those who lobby on behalf of an organization must submit a list of the groups who contributed more than $500 to that organization within the last two years, according to state law. The PDC is so short staffed (partly because of budget cuts made by state lawmakers), that it reportedly does not have the resources to audit the lobbying reports it receives, or adequately monitor whether lobbyists are reporting the proper information.
Earlier this month, anti-CRC lobbyists agreed to submit a list of its donors to the PDC, after The Columbian inquired about whether the group needed to. You can read about that group's donors here.
Stevie Mathieu is a political writer at The Columbian. Contact her at 360-735-4523 or stevie.mathieu@columbian.com or www.facebook.com/reportermathieu or www.twitter.com/col_politics.