Immigration reform rally to take place Wednesday in Esther Short Park
Immigration reform advocates will put more pressure on U.S. Rep. Jaime Herrera Beutler Wednesday evening, when they're planning to march from her Vancouver office to Esther Short Park.
Senators in Congress are working on a bipartisan approach to immigration reform that includes tightening up the border between the U.S. and Mexico and creating a pathway to citizenship for people who immigrated to the U.S. illegally. They are calling on Herrera Beutler, a Republican from Camas, to support those reforms.
The immigration reform group, One America Vancouver, says the rally will kick off at 6 p.m. at the congresswoman's office, 750 Anderson Street (in the O.O. Howard House on Officer's Row). One America was there earlier this month, asking that Herrera Beutler support immigration reform and that she participate in their event.
Herrera Beutler has said she is keeping an open mind about immigration reform and remains noncommittal to any specific bill.
"She's pleased that there are leaders from both parties now addressing the issue," her spokesman, Casey Bowman, said recently in an email. "It's important to note that the sponsors of the Senate immigration bill have promised a full, open process for the legislation, so it will be amended and go through the hearings process and will likely look significantly different by the time it earns Senate approval and reaches the House. At that time, she'll give the bill full consideration."
One America also invited Vancouver Mayor Tim Leavitt, Interim Vancouver Police Chief Chris Sutter and state legislators from Clark County to participate in the event, said Rick Covington, a member of the organization.
A flier for the event, including a map of the walking route, is included below (click on the image to enlarge it). The march will end at the park's pavilion and is expected to end at about 8:30 p.m.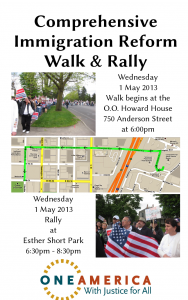 More details about the march and rally on Wednesday, including a map of the route. Click to enlarge.