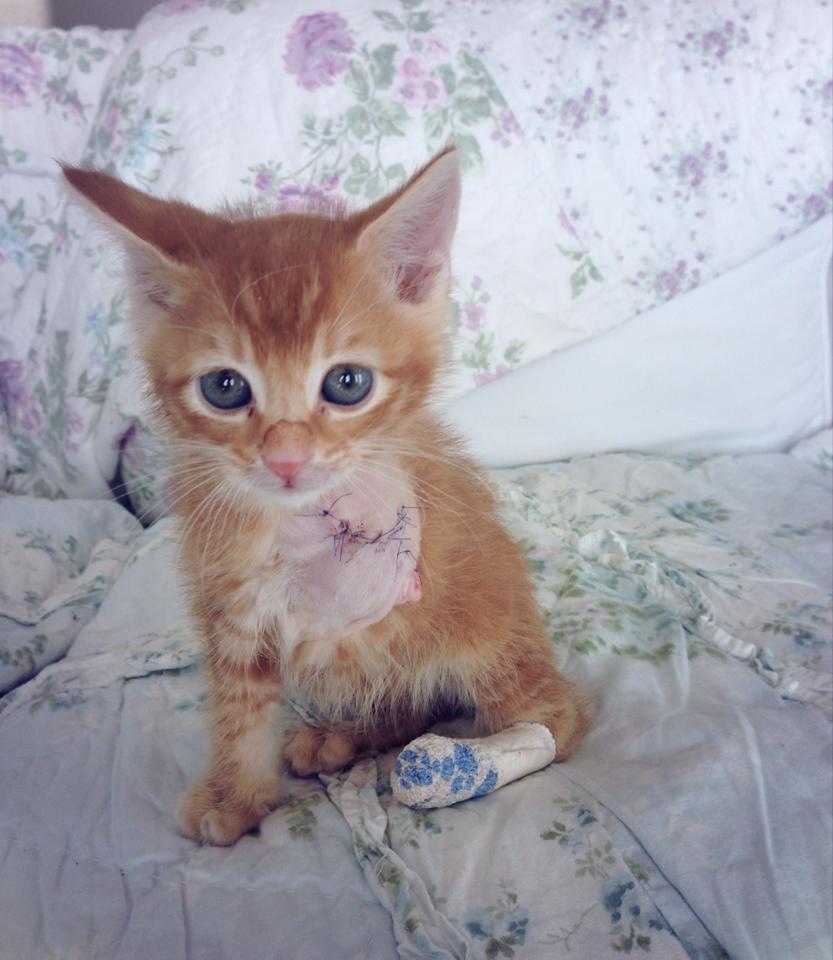 I just had to blog about this one. My friend Janae Snyder her mother, Sandy Brown, and brother, Wyatt Brown, have the biggest hearts ever. I have to give a thumbs up for saving this kitten. Meet Leo, Janae Snyder's newest family member. This is a family of true animal lovers. She was not looking to add to the family but sometimes the need arises.
Leo's story: For three days Leo the kitten was screaming for help. Luckily Sandy and Wyatt went to visit Janae's grandparents, and found Leo wedged in between a bush and the fence. They could here him screaming when they pulled up to the house to visit. Sadly, her grandparents are hard of hearing and did not hear Leo's cries for help. Apparently the neighbors had heard Leo, but did nothing in three days.
So for days Leo was stuck waiting for someone to rescue him. Lucky for him, they came to his rescue. Leo was wedged in tight and had his foot stuck. Boy was he glad to see Wyatt. Wyatt crawled into the bush to untangle him from it. He was a very friendly kitten and not wild. They guess he was about 6 weeks old.
Originally they planned on taking him to the local shelter. Even though it is a no-kill group, they found out sick or injured animals still may be put down. After several hours passed, his leg was extremely swollen. The next day they rushed him to the vet, knowing they would have pay any costs that arose.
The vet believed the leg was dead, as he had no feeling in it. It was not broken. They put Leo on antibiotics in the hope that maybe he would get the feeling back in his leg. At this point, Janae had already fallen in love with him and decided he was going to become a new family member. So she had him tested for all the common cat diseases. Turns out he was just fine. His leg however was not. The swelling was not healing and he did have to have it removed. So now he has three good legs and is recovering just fine. If you would like more info, check out Leo's story on Janae's blog.
I wish more people would stand up for pets in need. Janae Snyder, Sandy Brown and Wyatt Brown you are an animals best friend and truly great people for saving Leo's life.