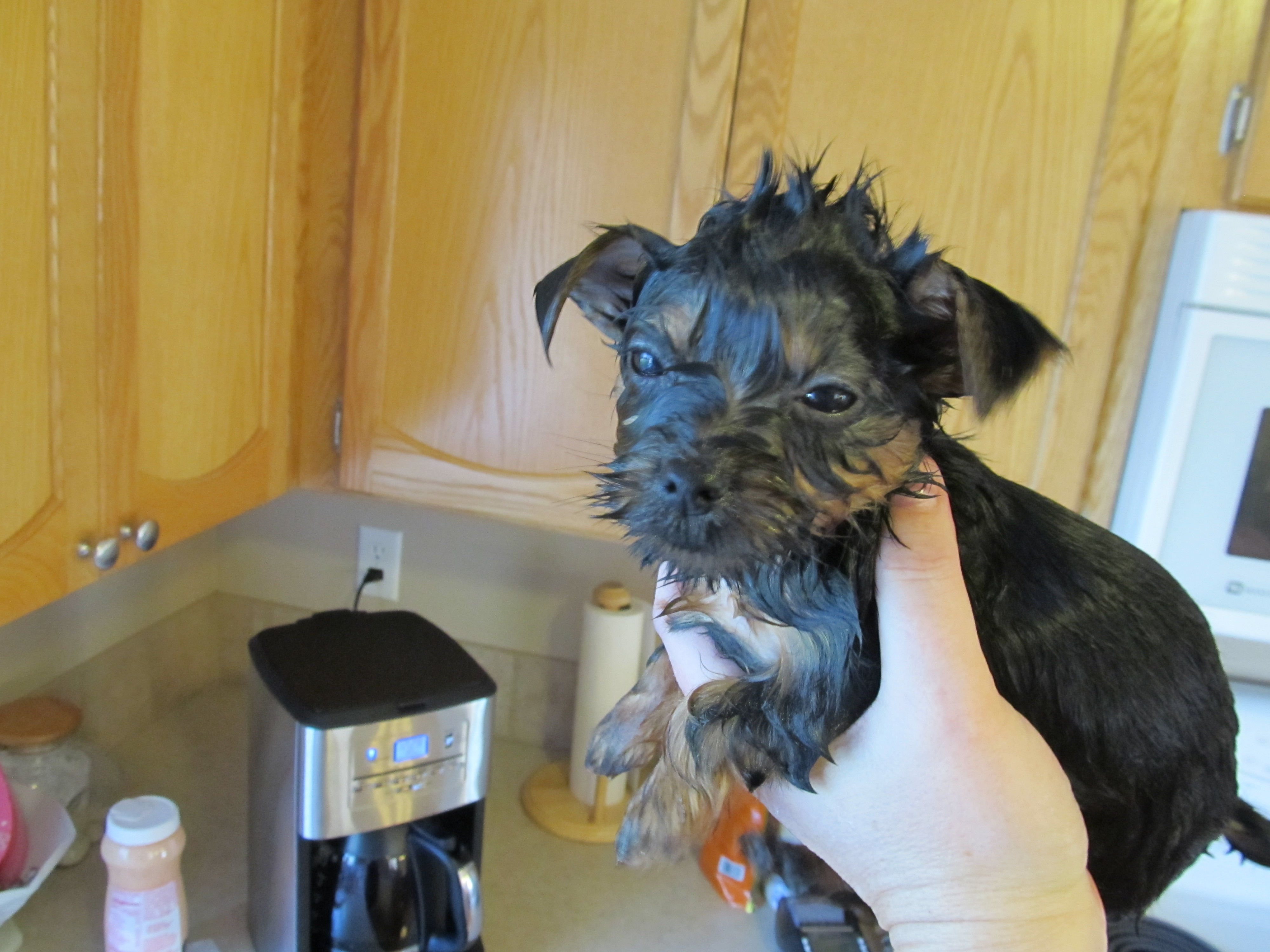 Bath time for Fido can be an inside job provided your pet fits in the bathtub or sink. They tend to prefer warm water as do I. On average, a dog should be bathed at least once a month. Whether it is you, or you seek the help of a professional, you should take this time to look over your pet. In-between salon visits you should check your pet. Looking for sores, parasites, ear infections or anything important that might be life threatening to their health.
A good grooming is not just a bath and blow dry. They should check the ears, clip the nails, brush teeth, trim the pads of feet and empty the anal glands. We all want our dogs to smell good and be perfectly quaffed when you pick them up. With all the new products your pet can look, smell and even be styled in a rainbow of colors for hair and toes. The salons have the latest tools and shampoos better for our pets and the environment. Purple poodles are cute but it takes a lot of work to be beautiful.
Finding the perfect groomer that meets your needs can be a challenge. My advice is give them precise directions. Photos of the style of cut you want your pet to look like gets the best overall results. Make a list of your pets needs and ask the salon if they can do this. If they know what it is you expect, they should accommodate you. We all need a little direction and I find they tend to do the best work when they know what you want. Once you find one you like they will get to know your pet and make the job much easier for you both.
Clip or file your dogs nails or it can cause less arthritis as they age. It is recommended to clip them a little every week. Training them by touching the toes often and giving them treats will also make this an easier process. You should ask the vet if you don't know how, they will show you. Keep Styptic Powder on hand in case you accidentally cut the nails too short. This will control the bleeding which seems to never end sometimes. If you have a dog like mine you seek professional help. Some pets have a fit if you touch their feet but if you work with them in time you can get them over the fear of a nail clipping.
Check your dog's anal glands. Yes, that is smelly and gross, but it is a necessity for some dogs and should be done every 2-4 weeks. If you look up "dog anal gland expression" you will find all kinds of how-to videos. If your dog has a full load, they may  rub their butts on the floor, or you may seem they do circles, sniffing or itching the anal area. Little dogs are more prone to anal issues and can literally blow a gasket if not taken care of. It will blow up inside them and could cause an infection and a large hole may be visible on the rear. This happened to my yorkie, Star, who has super thick glands that are hard to express. If they are thick or not expressing you should seek vet assistance.
Brush your pet. Having the right tools is the key. Some need de-shedding, some need detangling and some just need a stiff comb. Knowing what is best for your pet can be confusing and painful if it is not the right tool. Consult with a professional if you are not sure what to use.
Lastly, keep those ears clean. Some dogs can develop chronic ear issues so it is best to clean them regularly as well. If your dogs ears smell bad, they may need medical attention.
Keeping your pet clean can be beneficial to your sense of smell and your pet's well-being.