Learning To Breathe with a side of Loaded Mashed Faux-Tatoes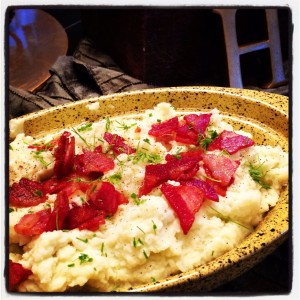 Well, hello there!! It's been awhile, hasn't it?! You may remember a few months ago I struggled with some health issues. I was taken out by Vertigo and spent nearly a month in bed. I was so sick from the spins — similar to the morning after my 21st birthday… set on repeat, day after day. Ugh. I lost a good 5 pounds (mostly muscle) and landed myself in an ambulance headed for the Emergency Room after experiencing a very frightening Vasovagal response. (Funny thing; I talked to the medic about 'Paleo in a Pinch' the entire way to the hospital! He's since gone Paleo and now follows my blog. LOVE it!)
After several doctor visits, my vertigo faded and I was left to pick up the pieces of my life that had literally spun out of control. My sweet husband was a solid rock for me, my kiddos hung tight and family and friends rallied around helping to meet our needs. I went through a period of anxiousness, not able to trust my bodies response and questioning my own reality. Being an active and energetic people-person, dealing with anxiety was extremely inconvenient. To say the least.
Thankfully, I have a medical doctor who respects my desire to combat things naturally. She led me down a path that included massage, acupuncture and chiropractic care. I joined a yoga wellness studio and learned how to breath again. (Who knew breathing was so important?!)
I've often wondered when I'd start writing again. (More often, I found myself wondering how I ever found the energy to write, cook and create Paleo in the first place?!) I had peace that my mojo would find me when the timing was right.
I must say, it's great to be back. I adore writing and sharing my Paleo adventures with you. I've been so touched by those who have reached out and shared how 'Paleo in a Pinch' inspired them to tackle Whole30, dabble in Paleo or simply enjoy reading my blog. My mojo was mustered up by each and every one of you.
Thank YOU for inspiring ME to continue on with my passions for Paleo. I take great comfort knowing I have the best family, friends and fans a blogger could ever hope for. And with that, I leave you with a recipe full of 'comfort'. Straight from my mama's kitchen. A twist on her highly requested mashed potatoes. Who says Paleo is anti-comfort food?! Not me.
Loaded Mashed Faux-Tatoes
GROCERY LIST (makes 4 side servings)
4 cups cauliflower, broken into x-large pieces
2 TBSP grass-fed butter
2 thick strips of bacon, cut into one-inch pieces
1/4 cup chives or green onion, chopped
salt & pepper, to taste
COOKING INSTRUCTIONS (cook time: 20 minutes)
1) Steam cauliflower until soft when pierced with a fork (about 10 – 15 minutes). I prefer mine al dente.
2) Meanwhile, in a small sauce pot (to prevent unnecessary bacon grease splatters), brown bacon pieces over medium-high heat (about 5 minutes). Strain bacon and set aside. Reserve bacon drippings for later use (great for frying eggs or sautéing vegetables).
3) Place steamed cauliflower in a food processor (or an electric mixer). Add butter and processes until smooth. My fam prefers bits of faux-potato chunks, so don't be afraid to under-process.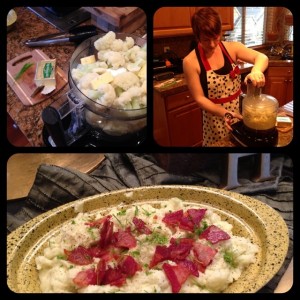 4) Remove faux-potatoes from food processor and place in a large bowl. Stir in cooked bacon, chives and/or green onion, adding salt and pepper to taste.
From my kitchen, to yours…. learning to breath, finding comfort and rolling with it!!
For even more Paleo in a Pinch, please check out the following…
www.paleoinapinch.com
FaceBook
Instagram
Twitter