Braised Chicken With Nectarine Chutney & Coconut Fried 'Rice'
I tend to stock pile fruit this time of year. Between my weekly CSA box (pre-paid, farm to fork produce) from Inspiration Plantation, pit-stops at the local market and generous neighbors who bring gifts from their gardens — you'd think Fruit Ninja lived at our house.
My son wishes Fruit Ninja lived with us.
He doesn't. I deleted him.
No worries. There's no need for Fruit Ninja. If there's an abundance of nectarines or peaches, I'd rather bust out a sweet n' spicy chutney — perfect for braising and glazing.
Braised Chicken With Nectarine Chutney & Coconut Fried 'Rice'
GROCERY LIST **makes 6 servings
*Braised Chicken*
olive oil
2 yellow onion, chopped
1/2 red pepper, chopped
1 tsp cayenne pepper
1 tsp cinnamon
1/2 tsp ginger
2 tsp salt
3 lbs chicken breast
1/2 cup apple cider vinegar
2 lemons, juiced
4 cup nectarines or peaches, cut into large bite-sized pieces
1/4 cup coconut palm sugar
*Coconut Fried Rice*
2-3 TBSP coconut oil
4 cups cauliflower, riced
1/3 cup each; pineapple, zucchini & yellow squash bits
COOKING INSTRUCTIONS **cook time: 1 hour
1) Pre-heat oven to 350 degrees.
2) In a large sauté pan, warm olive oil over medium heat. Sauté onion and red pepper for 2-3 minutes. Add chicken breast to the sauté pan.
3) In a small bowl, mix together seasonings for Braised Chicken. Sprinkle chicken with seasoning as you brown all sides, about 5-7 minutes.
4) Add apple cider vinegar and lemon juice. As the juice begins to boil, layer on the nectarines and sprinkle with coconut sugar.
5) Remove sauté pan from heat, cover with lid. Bake in a pre-heated 350 degree oven for 45 minutes, or until internal temperature reaches 160 degrees.
6) Meanwhile, using a food processor, 'rice' the cauliflower. (Throw a handful of cauliflower in a food processor, give it a whirl for a few seconds, set aside and repeat.)
7) 10 minutes before the chicken is done, melt coconut oil in a stir fry pan over medium-high heat. Add cauliflower, pineapple, zucchini and yellow squash. Stir-fry until lightly browned, about 10-15 minutes
8) When chicken is fully cooked, remove pan from oven and place on the stovetop. Remove chicken pieces and set aside. Bring remaining sauce to a boil, stir 3-5 minutes, allowing your nectarine chutney to come to life.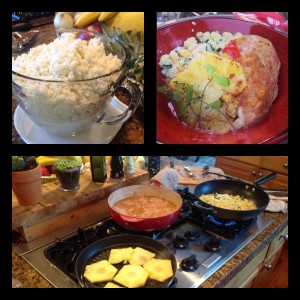 To serve, layer a bed of coconut fried rice with plump pieces of chicken breast and top with sweet n' tangy nectarine chutney.
From my kitchen, to yours …. Hasta la vista, Fruit Ninja.