Hood 2 Coast: 3, 2, 1…..GO!!
In just a few short weeks, my husband and I will join thousands of fellow runners to participate in Hood 2 Coast, an epic, one-of-a-kind event. Hood 2 Coast clames title for the largest relay race in the world. Our 12 memeber team, cleverly named 'Kicking Asphalt', will divide into two vans and relay from Timberline Lodge on Mt. Hood, to the surf of Seaside, OR.
How far is this distance, you ask? Hood 2 Coast is a mere 198 miles. NBD.
Truth. It's a grueling task. Yet, the most fun you'll ever have. It's like a zombie apocalypse for runners. In the spring, you'll have grand visions of being in mega-buff shape. Because you trained like never before. Like you said you would. Come summer, you picture yourself running down the mountain in all your glory, freshly groomed and sporting snazzy LuLu Lemon. Pfft… by mid-race you'll be asking yourself, "What was I thinking?!"
And, then. You hit the beach. You feel the sand between your toes and quickly forget about your blistered feet. You join hands with your teammates, who are equally filthy and run across the finish line together. Suddenly, you forget you've been limping for hours. All sign of pain has left your body. You're high-fiving, congratulating your teammates and recieveing a much deserved medal. If you're lucky, you'll spend the rest of your evening on the beach, enjoying the festivities and fireworks, all while plotting your next Hood 2 Coast adventure.
I must be half crazy. This is my 7th Hood 2 Coast. Tonight, we head to our Hood 2 Coast team BBQ to discuss logistics. I am armed with a family fave recipe, Candied Carrots, sure to win over any Paleo skeptic. We'll recieve our team shirts and official start time. We'll meet each others children and share a meal together. Then it's official. The countdown to Hood 2 Coast has begun.
3, 2, 1…. GO!!
Candied Carrots with Fig and Ginger
GROCERY LIST **makes 8 side servings
8 large carrots, peeled and cut into large pieces
1 cup dried fig, cut into bite-sized pieces
2 yellow onion, halved and sliced
1/3 cup coconut oil, melted
2 TBSP fresh ginger, grated or finely sliced (or 1/2 tsp dried)
1/2 tsp cinnamon
1/2 tsp nutmeg
salt to taste
COOKING INSTRUCTIONS **prep time: 10 minutes, bake time: 1 hour

1) Pre-heat oven to 350 degrees and prep ingredients.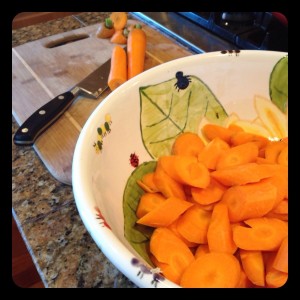 2) In a large bowl, mix together all ingredients.
3) Pour mixture into a 9 x 13 inch baking pan.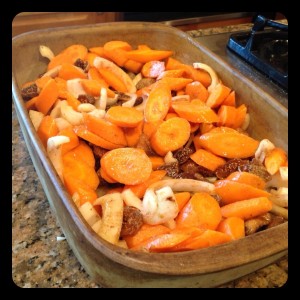 4) Cover baking dish with lid or tinfoil and bake for 1 hour, stirring halfway through.
5) Uncover and let stand 5-10 minutes before serving.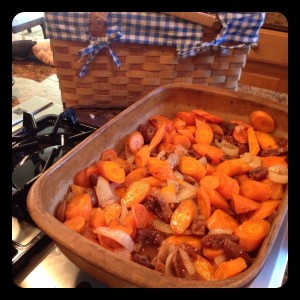 From my kitchen, to yours….. 'Kickin' Asphalt' all the way to the beach!!