Dick's Kitchen — The All-American Paleo-Friendly Diner
I'm on a mission these days. A mission to put my money where my mouth is. Along with hunting and forging my path through Farmers Markets, I'm on the hunt for Paleo-friendly restaurants focused on serving local, high-quality food. Lucky for me, I live in Vancouver WA, near Portland OR. — two cities that ooze with endless culinary options.
First on my list: Dick's Kitchen, located in Portland, Oregon. Classic and retro. Holistic and pure. Dick's Kitchen is known for dishing out All-American classics — burgers, fries, dogs and shakes — with a passion for local quality and a heaping side of Paleo knowledge.
I was fortunate enough to sit down and talk all things Paleo with Richard, owner of Dick's Kitchen. He knows a thing or two about Paleo. Having previously been a vegetarian for 10-years, Richard was recommended an anti-inflammatory diet (similar to Paleo) to improve his arthritis and heart disease. The anti-inflammatory diet made such a positive difference towards regaining health and mobility, Richard aspired to open a restaurant that would offer Paleo alternatives to All-American favorites. Dick's Kitchen respectfully serves 100% grass-fed Carman Ranch beef and options for grain-free, gluten-free, dairy-free, sugar-free and salt-free diets.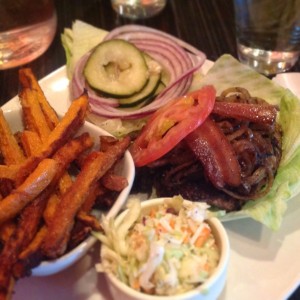 Fascinated with Richards passion for Paleo, the more I talked with him, the more I realized his wealth of knowledge and respect for whole foods goes far beyond his personal health experience.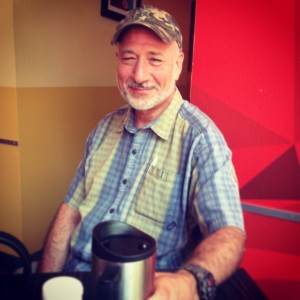 Richard spent his younger years studying at The University of Chicago, receiving his degree in Anthropology. His subspecialty was Physical Anthropology, more commonly known as Evolutionary Anthropology, in which he researched the evolution of language and chimpanzee communication. More recently, Richard's love of cultivation led him to pursue a farming degree and purchase personal farming property.
I couldn't help but to chime in, when Richard mentioned he's on the lookout for a 3rd Dick's Kitchen location. His wish list includes a larger space to experiment with new food ideas and in the future, possibly bottle Paleo-friendly ketchup for retail. Also on the wish list — an event room — to be used for large restaurant parties and hosting a speakers' series regarding Paleo and anti-inflammatory approaches. Already having two Portland-area Dick's Kitchen locations, I selfishly recommended Vancouver.
At the end of our conversation, my head swirled with inspiration and gained knowledge. I devoured a delicious Kale Caesar Burger Bowl, made with heaping handfuls of fresh chopped kale, tossed in house-made vegan caesar dressing, topped with shaved parmesan cheese (omit for Paleo) and a juicy 100% grass-fed burger.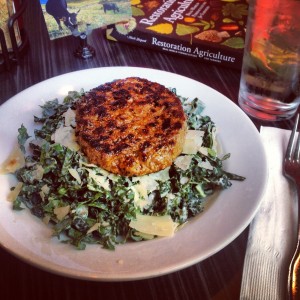 Looking around the restaurant, I was pleased to see that everything from the knowledgable staff to the house-made desserts were promoting a healthier lifestyle and supporting our local economy. I walked away completely satisfied, knowing I'd put my money where my mouth is.
Dick's Kitchen
http://www.dkportland.com/
3312 SE Belmont St Portland OR — 503.235.0146
704 NW 21st Ave Portland OR — 503.206.5916
Open 11am to 10pm