Nanny's Broccoli, Bacon & Cranberry Salad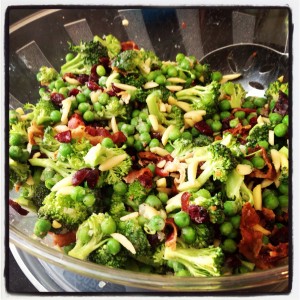 Each and every summer, for as long as I can remember, we've packed up the trailer and headed to The Ranch for a long weekend of camping with my Dad's family. The Ranch is a cozy little spot tucked away just off the Cowlitz river, lovingly owned and maintained by my Dad and Step-Mom, whom are affectionately called Nanny and Papa by their 9 grandchildren (don't panic, only 3 of these children are mine).
Throughout the weekend and between the 5 families, many activities are had and meals shared. The fellas look forward to their morning round of golf, while the ladies sneak away in the afternoon for a little antique shopping. The kiddos are up and at 'em early; excited to go swimming, fishing and play at the park.
By dusk, we gather together for an evening meal followed by endless hours of talking around the campfire. With 19 hungry campers and a few dogs eager for scraps, everyone brings a little something to the table.
Nanny's Broccoli, Bacon & Cranberry Salad is a dish we all look forward to. Sweet green peas and crunchy broccoli pair beautifully with savory bacon and tart cranberries. Not to mention it's grain-free, dairy-free, guilt-free and gut-ache free!!!
This salad has it all and will make a beautiful addition to your summer menu.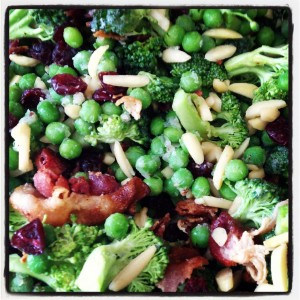 Nanny's Broccoli, Bacon & Cranberry Salad
GROCERY LIST **makes 8 servings
10 oz bacon, cooked until crispy
2 large heads of broccoli, trim into bite-sized pieces
2 cups green peas, fresh or frozen
3/4 cup slivered or chopped almonds
1/2 cup dried cranberries or raisins
1/3 cup rendered bacon fat or olive oil
1/4 cup apple cider vinegar or red wine vinegar
salt and pepper to taste
INSTRUCTIONS **prep time: 15 minutes
1) In a soup pot (to prevent splattering), over medium-high heat, cook bacon until crispy. Spoon bacon onto paper towels and blot dry. Reserve bacon fat, if using.
2) In a large bowl, add broccoli, green peas, almonds and cranberries.
3) Crumble bacon into bite-sized pieces and add to bowl.
4) In a small bowl, mix together bacon fat, vinegar salt and pepper. Pour over broccoli salad and stir to combine.
5) Serve immediately or refrigerate and serve cold. It's delicious either way!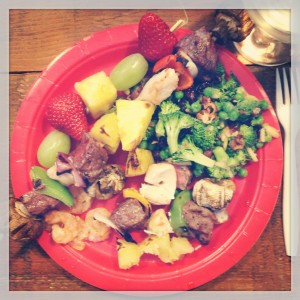 From my kitchen, to yours… sharing a little piece of my heart. Enjoy!!