Mindy's Paleo Pound Cake topped with Strawberries, Honey & Coconut Cream
We spent a blissful Sunday afternoon at my sister's house celebrating Mother's Day and Great-Grandma Shirly's 83rd birthday. My sister, Mindy, and her husby, Dustin, live in a self-proclaimed 'do-it-yourself' early 1900's farmhouse that just might possibly be plucked right out of a country home magazine. Every time I visit, I just want to stay — it's so lovely, like magnolias on a rainy day. There are no limitations to Mindy and Dustin's craftiness, from homemade furniture to refurbished vintage travel trailers — The Wiliams' touch graces every room, every barn and every garden. With rolling pastures and swaying trees that glisten in the sun, you can't help but feel at ease.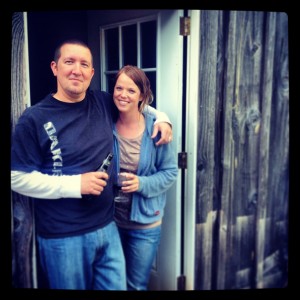 Mindy and Dustin are always gracious hosts and this fine SundayFunday they threw down PALEO STYLE!! We were treated to chicken, steak and shrimp kabobs. Their kitchen counters were lined with veggies galore to make yo'own skewers. Mom made PALEO broccoli salad — paleo-fying an old family fave, you know the one — broccoli, cheddar cheese, cranberries and gobs of mayo….. yah, that one. It's PALEO-FIED and ridiculously good!!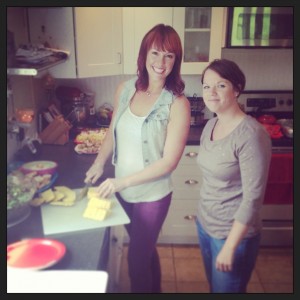 And then….. Mindy's Paleo Pound Cake was served. I'm pretty sure the clouds parted and angels sang.
Mindy's Paleo Pound Cake topped with Strawberries, Honey & Coconut Cream
GROCERY LIST **makes 9 servings
POUND CAKE
½ cup coconut flakes
2 cups almond flour
½ tsp salt
1 tsp baking soda
2/3 cup honey
2/3 cup coconut oil, melted
4 eggs
½ cup + 3 TBSP coconut milk, canned
2 TBSP vanilla extract
Strawberries, optional, stems removed and sliced
Honey, optional
COCONUT CREAM
2 cans coconut milk, stored in the fridge over night
Honey, optional
BAKING INSTRUCTIONS ** prep time: 10 minutes, bake time: 35 minutes
POUND CAKE
1) Pre-heat oven to 200 degrees. Put coconut flakes in a food processor and process for a few seconds. Bake 3-5 minutes. Set aside to let cool.
2) Pre-heat oven to 350 degrees.
3) Lightly grease 9×9 baking pan with coconut oil and line bottom with parchment paper.
4) In a small bowl, mix together coconut flakes, almond flour, salt and baking soda.
5) In a large mixing bowl, use a mixer to combine honey and coconut oil 1-2 minutes.
6) Add eggs one at a time, combining until smooth.
7) Add coconut milk and vanilla.
8) Add dry ingredients and stir to combine.
9) Bake in a pre-heated 350 degree oven for 35 minutes.
COCONUT CREAM
1) Carefully open 24 hour refrigerated cans of coconut milk. Spoon only the thick cream from the top of the can into a mixing bowl.
2) Using a blender, beat cream 3-5 minutes. Add a bit of honey if you'd like to sweeten the cream.
TO SERVE: Top pound cake with sliced strawberries and drizzle with coconut cream and honey.
From my kitchen, to yours…… go ahead, have your cake and EAT IT TOO!! Enjoy!!