Summers Perfect Side Dish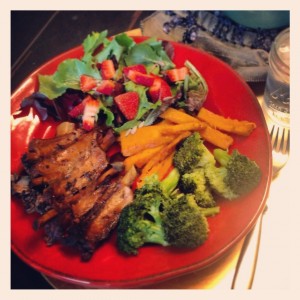 Summer is right around the corner. Can you smell it? It won't be too long before the tantalizing breeze of BBQ floats through the air. Be on the ready and stock up with yams. Yams? Yes, yams!
You'll love the addition of garlic yam spears to your summer menu. It's a no-brainer way to pack a healthy punch. Garlic yam spears pair perfectly with everything from chicken salad, to hamburger lettuce wraps, even juicy cuts of grilled steak & veggies. Crunchy on the outside, yet soft and sweet on the inside — healthy never tasted so good!!
Garlic Yam Spears

GROCERY LIST **makes 6 servings
3 yams, peeled and sliced into skinny fries
3 TBSP coconut oil, melted
2 tsp tapioca flour
2 tsp onion powder
2 tsp garlic powder
1 tsp paprika
1/2 tsp salt
1/4 tsp pepper
COOKING INSTRUCTIONS **prep time: 5 min., soak time: 30 min, bake time: 35 minutes
1) Peel yams and slice into small spears. Fill a large bowl with cold water and allow yams to soak for 30 minutes.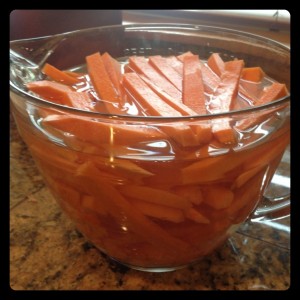 2) Drain yams, squeeze as much water out as you can. Use paper towels to blot dry.
3) Pre-heat oven to 450 degrees. Line 2 baking trays with parchment paper.
4) In a zip lock bag, combine yams and coconut oil. Mix until thoroughly coated.
5) In a small bowl, mix together tapioca flour and remaining seasonings. Add mixture to zip lock bag, shake to evenly coat the yams.
6) Place seasoned yams on parchment paper lined baking trays, do not allow yams to touch.
7) Bake in a 450 degree pre-heated oven for 20 minutes. Flip. Continue to bake 15 minutes more, or until desired doneness.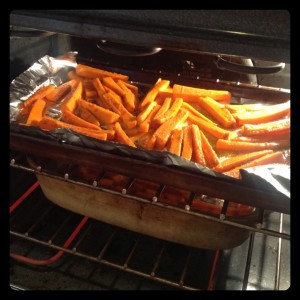 From my kitchen, to yours … dreaming of summer!! Enjoy!!