An After-School Snack for All to Enjoy
I love making Veggie Pizza for my kids when they get home from school. Their eyes light up as they casually toss their backpacks over a barstool and claim their seat. A little crinkle on their nose tells me they are pleased.
It's nostalgic to have something warm and ready as an after school snack. Veggie Pizza is a perfect replacement for frozen (filled with who knows what) pizza rolls — something I never had as a child (Thank you, Mom!!). I was introduced to pizza rolls in my mid-20's, at Girls Beach Weekend. I think I ate the whole bag, they seemed so delicious at the time… it must have been the wine?!
Anywho, skip the frozen pizza rolls and go for Veggie Pizza! Your kids will love it and I know you will too!!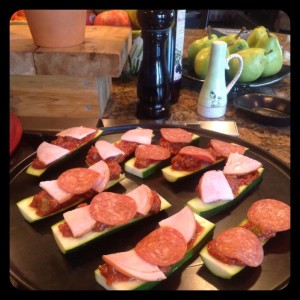 VEGGIE PIZZA
GROCERY LIST **makes 4 servings
– 4 zucchini, discard the ends and cut lengthwise in 4 slices
– red sauce (I use leftover spaghetti meat sauce)
– meat, cut into 1/4's (nitrate free/organic pepperoni, salami, canadian bacon…)
– veggies, chopped (olives, red/green pepper, pineapple…)
COOKING INSTRUCTIONS **prep time: 5 minutes, bake time: 10 minutes
1) Place zucchini slices in a baking dish. Layer each slice of zucchini with red sauce, meat and veggies.
2) Bake in a 350 degree pre-heated oven for 10 minutes. Let cool a minute or two before serving.
From my kitchen, to yours… be sure to save some for the kids!! ENJOY!!