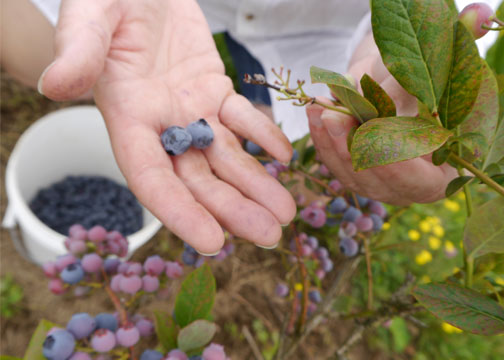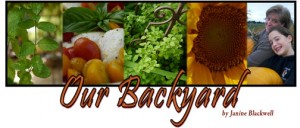 We picked Blueberries today! Thank goodness the Blueberry season is a long one (compared to other fruits) because we were out of town when they first came on, so we were happy to get some today. But frankly, there are so many varieties of blueberries that some farms extend their season into September, so there is no need to panic!
Blueberries are a native of North America, but can grow almost anywhere in cooler climates and the Willamette Valley is a prime growing area- which we are a part of here in Clark County.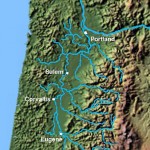 They are easy to grow, but require the right PH level and need a specific numbers of "chill hours" each year. That gets kind of complicated for me- not to mention that the two plants we have in the backyard clearly are there for the birds-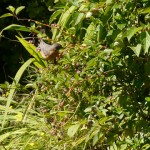 so we try to hit one of the U Pick farms a few times each summer to get our fill.
There are a number of growers and U Pick farms in Clark County; we love Majestic Farms just north of Hockinson, they have the most beautiful berries and venue for a day's outing (I always feel like I should bring along an al fresco picnic when we go!) We've picked at Gary's Place, he's completely organic… and today we picked at Philbrook Farms off 50th, toward Battle Ground. The atmosphere there was very kid friendly! The berry varieties are different at each place so you really just need to pick and see what flavor you like the best.
Our first choice for eating Blueberries is fresh off the bush- pile them up in a bowl and set it out for all to enjoy!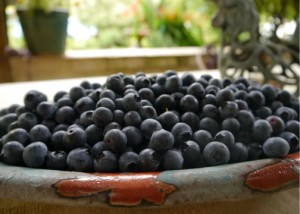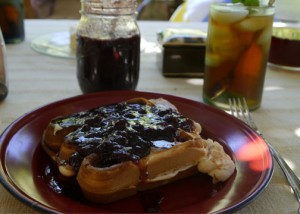 I also make a chunky sauce, trying to keep the berries as whole as possible. We use our sauce for pancakes, waffles, crepes, P B & J's or as a topping for our favorite ice cream or cheesecake. For a special drink a Blueberry Bellini is nice!
 Blueberry Sauce
Cook, stirring regularly to keep it from burning :
Blueberries
Sugar (I usually go light on the sugar because we like the taste of the berry)
Fresh squeeze of lemon
A pinch of fresh ground nutmeg
A little pat of butter (keeps the foam down)
Pinch of salt.
Bring it all to a boil and cook it until it's the thickness you want. Boil it gently to keep it chunky.