Furry Friends: Mad Catter Dinner & Auction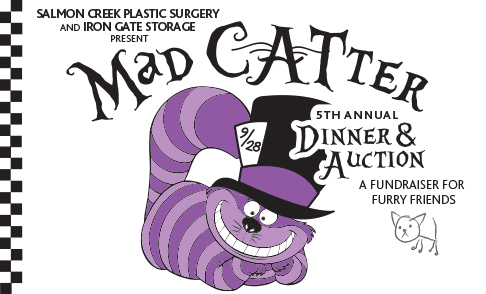 I recently came upon a flier for the 5th Annual Mad Catter Dinner and Auction, to be held on Saturday, September 28th in Vancouver. The purpose of this function is to raise money for Furry Friends, a non-profit no-kill shelter dedicated to re-homing cats in the Clark County area. According to the Furry Friends website they work to educate the public on proper feline care, to include the importance of spaying and neutering. The group also works to facilitate foster care and pet therapy visits, and even helps seniors pay for pet security deposits so that they may keep their pets when moving to a new home.
Furry Friends has a permanent adoption center located inside the Hazel Dell PetSmart (Hazel Dell Ave. & 78th St.).
This is an organization worth looking into, and if you're interested in attending or donating items for the Mad Catter Dinner and Auction, you can find more information on the website.