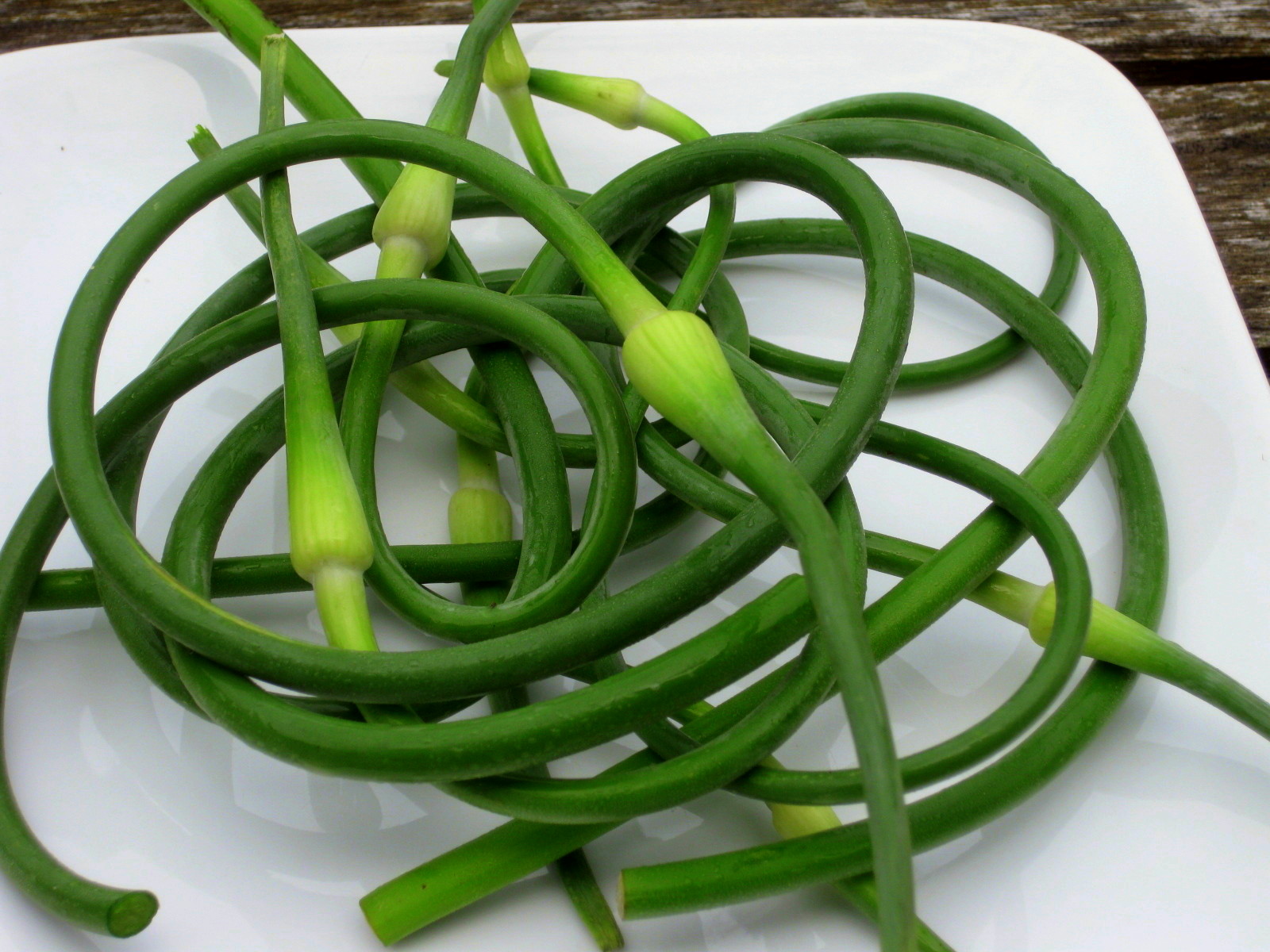 It's officially springtime in the Pacific Northwest, which means our nonstop rain is gradually giving way to mostly nonstop rain. Plus, a fresh bounty of vegetables (and a few fruits) that thrive between March and May. You're probably familiar with standbys like asparagus and radishes, but have you tried garlic scapes?
Garlic scapes are the flower stems produced by garlic plants before the bulbs mature. Their curly green stalks contain tightly closed bulbs; they sort of resemble a green bean with a lump on top. I had never seen one before last year, when a springtime visit to Pike Place Market in Seattle yielded several vendors selling them. Curious, I picked some up, not really sure what to do with them. My motto is when in doubt, saute. So I threw them in a frying pan with some olive oil and a dash of sea salt. The result? A tender, aromatic veggie with a mild garlic flavor and a slight hint of sweetness. Though the entire scape is edible, it is suggested you trim off the stems (much like you do with the rough bottom parts of asparagus) and the bulb portion, which scorches easily. We were so impressed we looked for them locally, and found vendors at both the Vancouver Farmer's Market and the Portland Farmer's Market (PSU) selling them. But the growing season is extremely short, so if you happen to spot garlic scapes, snatch them up quickly – they won't be around for long!
Garlic scapes are most often used as a garnish similar to scallions (they would be wonderful atop a baked potato) or chopped into a salad, though they work well sauteed, stir-fried, grilled, pickled, or simmered in soup. Some people like them raw. I tried that, but be forewarned: the scape was much more bitter eaten that way, with a more intense flavor.
One of the more popular ways to prepare them is to make a homemade pesto sauce served atop pasta. Here's a great recipe:
Ingredients
1/4 cup pine nuts (pistachios can be substituted)
3/4 cup coarsely chopped garlic scapes
Juice and zest of 1/2 lemon
1/2 teaspoon salt
A few generous grinds of black pepper
1/2 cup extra virgin olive oil
1/4 cup grated Parmigiano Reggiano cheese
Directions
In a small, dry pan set over low heat, lightly toast the pine nuts, stirring or tossing occasionally until they just begin to brown, about 2-3 minutes. Remove from the heat and let cool for a few minutes.
Combine the scapes, pine nuts, lemon juice and zest, salt, and pepper in the bowl of a food processor fitted with the blade attachment. Pulse about 20 times, until fairly well combined. Pour in the olive oil slowly through the feed tube while the motor is running. Once the oil is incorporated, transfer the mixture to a bowl and stir in the grated cheese. Taste and season, as needed. Serve over 1 lb. cooked spaghetti or linguine.