Tiny Art Projects Beautify Cityscape
A team from Leadership Clark County's Class of 2015 partnered with the Clark County Mural Society to create mini murals on utility boxes in Downtown Vancouver in May. The group brought in local high school students to plan and install little whimsical paintings on previously forgotten cityscape. My favorite is the tree mural because of the reaching limbs and pretty colors. It can be found at 7th Street and Washington.
Cool things about micro-public art projects like these are they're quick, inexpensive, and effective in improving the look and feel of our urban communities. Though getting permission to install a project like this might not be effortless, finding students to create these little gems is. Kids love art, from what I've observed, and given the opportunity they are happy to share their creations.
Check out this cool video about the project, and when you're out and about, take a closer look to see how art projects in Clark County are making our community a little better, one brush stroke at a time.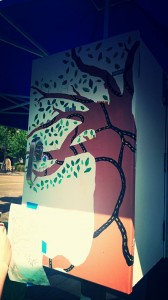 Image from Erica Marchbank