Recycled Arts Festival Brings Crowds and Commerce
The 10 Year Anniversary of the Recycled Arts Festival brought out happy crowds of Clark County residents to Esther Short Park this past weekend. Visitors enjoyed the work of our creative community. Sweltering heat did not deter folks from this quintessential yearly art event. And from what I heard from vendors, sales were strong.
It's important to remember artists are small business owners and revenue from events like the Recycled Arts Festival is a large part of their yearly sales goals. Creative economy is essential to a healthy overall economy because money from sales goes directly from the community back into the community. You can't outsource local art.
When I attend this event, I never go home empty handed. Shopping is fun and eclectic at the Recycled Arts Festival and I enjoy my purchases. This year I got another Zombie Couture recycled and screen printed t-shirt. The one I bought last year was my favorite tee and I'm sure this newer one will be as well.
Next year, the Recycled Arts Festival will be sure to bring out tens of thousands of people like it does every year and create revenue for its vendors. To let the organizers know how much we value this event, send an email to Sally.Fisher@clark.wa.gov or call Clark County Environmental Services Director Don Benton at 360-397-2121 x4352.
Let's show our continuing support for this fun and profitable event.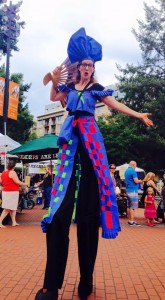 Recycled Arts Festival, 2015