project:PRINT Creates Buzz
It was hot, really, really hot on July 2 when project:PRINT had their first of many planned events in the Vancouver Arts District; this one was at Mt. Tabor Brewing. Regardless of the temperature, dozens of folks turned out to learn how to screenprint, making one of two designs offered. Smiles of pride were worn by guests as they held up their prints.
Creator David Cummings, his wife Meghan and their baby Leela were on hand with family and friends to introduce guests to screenprinting, which can be used as an art form as well as a hobby.
Whether making fine art prints that can hang in a museum, or a tee shirt to promote a political campaign, the process is the same. First, create a design. This can be done digitally now, or by hand. Then a screen is made with the design. This screen is put into a press, where paper or fabric surfaces will be printed with it using special kinds of inks. (This is my synopsis, but Cummings gives a much better one.)
This process is straight forward and the products are cool, which makes this the kind of hobby creative people who don't necessarily consider themselves visual artists can enjoy.
"Everyone has a screenprinting project they'd like to try, whether it's a tee shirt or art." Cummings says.
Vancouver is home to a company called Ryonet that supplies screenprinting presses to a national market. They donated two presses to project:Print, as well as the time of an employee, Ashley, who helped with this event.
What makes project:PRINT really special is the focus on community building. "Artists connecting with the community through screenprinting, Vancouver, WA" is their motto, and one that fits in perfectly with the emergence of a healthy and vibrant creative community in Downtown Vancouver.
"This is a cool opportunity to try something fun and different," says Mt. Tabor Brewing owner Eric Surface. Also, he noted, the event brought people into the brewery. This illustrates a well-known fact that arts & culture attract crowds to businesses hosting events or to businesses simply located close to the events.
Project:PRINT's next event will be at the end of July at Gallery 360, and August 15th at Loowit Brewery. Go to their website for refreshed events information.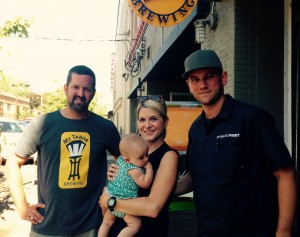 (L-R) Eric Surface, Leela and Meghan Cummings, and David Cummings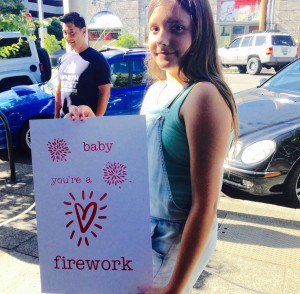 Guest Ella and her mom enjoyed making this print with a Katy Perry lyric, Noland Hoshino of Hello Vancouver! in the background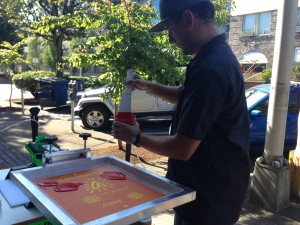 Cummings inks the screenprinting press