Poetry Off The Page: Open Mics in Vancouver
Poetry is a pure religion for many writers and readers. Poets use images, rhythm, and carefully selected vocabulary words to express ideas that would take other types of writers hundreds or thousands of words to express. It is a spare and disciplined art form, and one that has always inspired me. I respect poets doubly for sharing their creations at open mics. It takes guts.
It's not surprising that Clark County, home to so many kinds of artists, has three public poetry events monthly. Ghost Town Poetry Open Mic is the very popular creation of Clark County Poet Laureate Christopher Luna. It began in 2004 and goes strongly the second Thursday every month at Angst Gallery on Main Street in Vancouver. The next event is January 14th at 7pm.
Paper Tiger on Grand Boulevard in Vancouver has a poetry night every third Wednesday at 7pm. Their next event is January 20 and will be an homage to William Stafford. I attended their December event this past week and was delighted to see the Luna family reading together, in addition to several other poets. There is certainly a technique when reading poetry, and it's always fun to watch live poetry performed. The hostess of the event, Joyce Colson, invited me to sign up for a turn at the mic after I sat down with my tea. Maybe someday, but not that night, I thought. The audience was very accepting and encouraging; making reading there something I have now put on my bucket list.
At Barnes and Noble on Fourth Plain in Vancouver on the last Tuesday of the month there is a poetry open mic at 7pm. I haven't had an opportunity to attend this one, but I've heard it mentioned approvingly many times by local writers.
There are as many ways to express the self as there are selves, yet I have a special appreciation for artists who use the medium of poetry, and those who have the courage to share their words. Locally, there are plenty of opportunities to listen and read at open mics and enjoy the camaraderie of live poetry.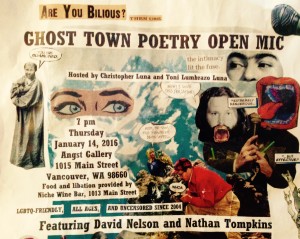 The iconic one-pager collages promoting Ghost Town Poetry Open Mics are a fun read in and of themselves.