Our Interconnected Arts Community
Every community needs a way to connect its people. In Clark County, there are dozens of groups, guilds, and collectives that reach thousands of creative people and patrons. There are a couple organizations that work to represent and advocate for the broader community and they are the Arts of Clark County (A of CC) and the Clark County Arts Commission.
A of CC is a nonprofit 501 (c )(3) that supports arts with programs, advocacy, and grants. The arts commission is a non-paid extension of local municipal and county governments. Arts commissioners are selected by their cities and the "at-large" position is picked by the County Councilors. These two organizations work together on projects like the Creativity Vitality Index and Open Studios. There is frequent communication between their leaders and there are a couple people who serve on both boards to ensure collaboration.
One can think of their local arts commissioner as a go-to for information about their specific community. Typically, an arts commissioner is selected because of her/his interest in the arts and willingness to help with advocacy and connectivity, as well as special projects. Arts of Clark County has an activate board that works on committees to bring projects to fruition that broaden arts experiences and highlight local talent. Arts of Clark County can take donations and utilize volunteers.
In addition to these organizations, there is a new local website designed by arts advocates for artists and supporters of the arts. Called Clark Creativity Support, it is the brainchild of a small group that has worked and volunteered in the business of arts. Their aim is to share what they've learned and provide a platform for discussion. Local creative people will be highlighted at the site soon to expand public awareness of the artists among us.
Interconnecting the creative community is vital to growing a healthy and sustainable scene. Artists and supporters need opportunities to meet, venues for events, and information about resources. These two organizations provide all of this and more, making them  valuable assets to Clark County. The new website offers additional resources, referrals, and a sounding board for this rapidly growing scene. With dozens of people working to make these connections, the possibilities are endless.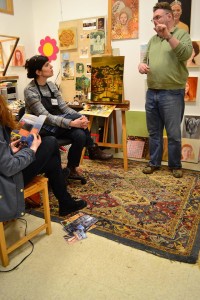 Studio artist Rachel Aponte chats with guests at Clark County Open Studios in 2014. This event is organized by Arts of Clark County and supported by Clark County Arts Commission.