Have you ever wondered what an artist whose work you admire actually looks like and then met him or her? Sometimes, they are different than you thought they'd be, and sometimes they are exactly what you expected. A very cool thing about enjoying a current art scene is you can meet the people whose art you like, chat with them, and even commission them to do a piece just for you. Once artists have passed, those opportunities are gone.
Even though I've been a part of gallery life for over twenty years, I am still a little star struck when I meet an artist whose work I admire. Shy and awkward I feel, though I try not to show it. It's a comforting reminder that people are just people when I meet exceptional artists and they are modest and cool to talk to.
A great reason to show up to art events around Clark County is to meet artists while they are working. You can ask them yourself, "What is the story behind your art? What does it mean to you?" Being there at the creation of something new and supporting the people doing the work can be very rewarding.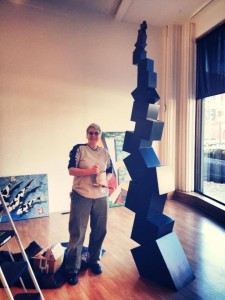 North Bank Artists President Kaitie Thompson Chase stands next to her large sculpture, 2013