Looking forward to a Summer of Murals
Walking around Vancouver, one can't miss the wonderfully colorful murals embellishing the sides of many commercial buildings. My favorite one is on Columbia Street and 3rd. It features a very happy rainbow cloud riding a bike. There are other murals with historical themes, like Fort Vancouver and Pearson Airport. These community assets are the work of the dedicated arts organization the Clark County Mural Society. Its vision is to help create a community that is a destination point for visitors.
Coming up soon is their Summer of Murals, which will bring five new murals to our fair city. The Call to Artists is out. Winning artists will receive generous prizes. Time and materials are donated by many supporters and volunteers.
"The Clark County Mural Society is bringing together Art & Community with all of the murals we do. So many people and organizations are involved in making it all happen," says their president Linda Reid.
"My favorite mural is one that is not yet competed, the Railroad Overpass Mural.  This has been a two year long effort with so many caring community members stepping up to help out and the best part is the mural is being painted by Girl Scout Troop 45765.  Lisa Howell and her creative talent worked with the girls and several parents and Lynn Miller at Vancouver Sign Group to make this happen. My favorite existing mural is the 'River Traffic' mural at Cellar 55.  I love the vibrant colors and use of the wall.  It is hard to pick favorites, all of them bring so much color to the city," says Reid.
Bringing fresh art to the public viewer is a generous service provided by these dedicated art supporters. Check out their website if you'd like to donate time or resources.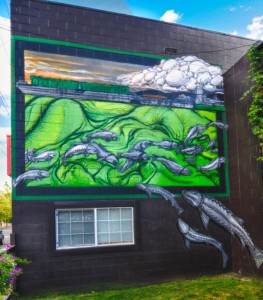 Mural by Bret Frizelle
Mural by Jon Stommel
Images provided by http://www.ccmurals.org
---