Gallery 360: Helping Youth Rise from the Ashes through Art
"Art Saves Lives" is a popular saying in the nonprofit arts community. The incredible capacity of creativity to help people who are struggling is well understood. This is why the arts community in Clark County has been reaching out to vulnerable populations through art classes for years.
One of the most consistent providers of art classes is Gallery 360, located at the Slocum House on Esther Street. They have offered classes for free to students at their site and at the Juvenile Detention Center for years. Now, with the continued support of the Community Foundation for Southwest Washington, they are growing their programming. Art teachers Jennifer Thoreson and Peggy Bird provide classes to youth at Juvenile Recovery Court, and also to SHARE House and Boys & Girls Club.
Year round art classes for kids in the judicial system are a helpful part of a healthy recovery program.
"Gallery 360 believes that art is absolutely a positive, pro-social activity. We want to encourage youth to explore creativity in a non-threatening and non-judgmental environment," says Thoreson.
Classes in mixed media, which include spray painting, are particularly popular. Making art allows youth to play, express themselves, and relax. One project especially struck a chord with youth and Gallery 360 members. A class of students worked together creating a large artwork on plywood with the theme "Phoenix: Rising from the Ashes."
"The youth worked so well together on the piece: editing the design and direction, allowing each youth to have input, and respecting each other. The project ended with a small showing of the piece to parents, counselors, and parole officers. The youth took great pride in their work. The Phoenix now hangs in the counselors' hallway at Lifeline Connections," says Thoreson.
Explaining how art benefits youth, Thoreson says:
"How has all of this benefited the youth? How has it not? Our classes expose youth to creativity, allowing them to cut loose for a time, and to find a voice that they may not have known existed. It brings youth together with positive and encouraging adults, adults that support them in their interests. It engages them in the community in a positive way. It brings them into an art gallery and exposes them to the work of other artists and creatives. It takes away some of fear surrounding that little word called 'art'."
Gallery 360 leads by example, helping youth to develop ways to express themselves and become part of a healthier community.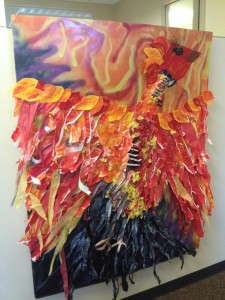 Photo of Phoenix Rising from Jennifer Thoreson