Free Model Guild a Local Gem
Life Drawing is a fundamental skill for any artist. Like our ancestors, who scribbled on cave walls with bits of charcoal, contemporary artists sketch with pencils and charcoal sticks on paper. Some are amazing at this skill, but regardless of ability nearly everyone who creates art regularly has attended sessions with a live model because it improves observation and technique.
For Clark County residents, we are fortunate to have Marianne Stokes and the Free Model Guild offering two sessions weekly. For any artist, the opportunity to develop this elemental skill for free is a gem.
For eleven years, the Free Model Guild has moved around town, offering regular sessions to keep this resource available to local artists. Their motto: "No fee. Everyone Invited. Drop-Ins Welcome. All Skill Levels Welcome."
"If you show up with a pencil, you're one of us," commented an artist attending the Saturday session last weekend.
So where do they find models? Some are volunteers but often artists draw each other. As an incentive, volunteers get a free portrait of themselves.
Every Wednesday from 1:15pm-4:00pm at the Marshall Center at 1009 E. McLoughlin BLVD and every Saturday from 12:30pm-3:30pm at The Marketplace on Evergreen BLVD in Vancouver anyone can join Free Model Guild for an afternoon of life drawing and artistic camaraderie.
For more info go to www.freemodelartguild.com.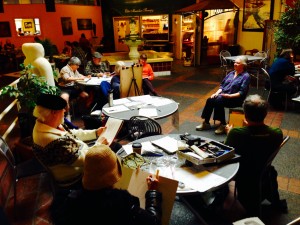 Free Model Guild artists draw a volunteer at The Marketplace on Evergreen BLVD, 2015