Firehouse Glass & Dengerink Art Supply Light Up
At 518 Main Street, there is a new energy. The Vancouver Arts District's longest lasting art gallery and studio, Firehouse Glass, continues its superb work but with a new roommate: Dengerink Art Supply. Starting with drawing supplies, the new store will expand inventory over the summer to include painting implements. Also, glass art from Firehouse Glass is under consignment and available for purchase at the store.
For those unaware of the history of Firehouse Glass, it's an arts community asset that has been home to regionally and nationally known glass artists. Founders and current owners Greg Lueck and Rebecca Seymour designed the glass studio to serve both as a place to make art and to learn the craft. Lueck's curriculum has been used nationally at other studios and art schools.
"Firehouse Glass is the Northwest's premier center for glass art located in the historic Vancouver National Bank Building. Firehouse Glass provides world-class equipment and facilities with a vision of community, education and collaboration in the glass arts. Each First Friday night of the month from 6:00-10:00 there is a public glass blowing demonstration in the Firehouse Glass hot shop."  (http://firehouseglass.com)
Interested in learning about glassblowing, glory holes, hot shops, cold shops, and more? Call 360-695-2660 or email info@firehouseglass.com for information about upcoming classes and lessons. To find out more about Dengerink Art Supply check out www.dengerinkart.com.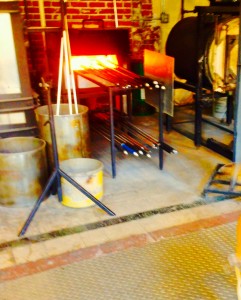 Glass furnace heating up rods at Firehouse Glass, 2015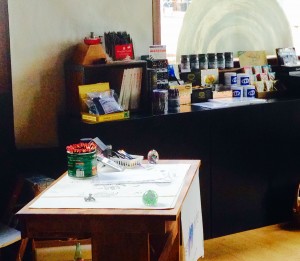 Dengerink Art Supply, 2015