Compelling Call for Open Studios Event
The Arts of Clark County recently put out a "Call to Artists" for the Clark County Open Studios event. The "call" is a simple application artists with studios in Clark County can fill out and submit with a small jury fee. 50 artists will be chosen to participate in the Open Studios event in November 2015.
Artists from all over Clark County apply to have their studios in this weekend event. Similar events are done in Portland and elsewhere, but usually not for free for guests. As is so often the case with arts in our community, there are no economic barriers- many of the best events are free to the public.
This will be the third year of the event, and the first two years were successful. Reported sales in studios added up to $50,000 last year. An average of 150 guests visited each studio. The numbers inspired members of the board of Arts of Clark County. The adage, "If you build it, they will come" certainly resonated with early successes.
"The real success here was what was shared and the connections made," says Clark County Open Studios director Jennifer Williams.
As our community grows its identity strengthens when we gather around the arts and enjoy experiences together.
More info:
"Clark County Open Studios is a juried art event, offering a unique opportunity for you to gain further recognition as an artist, open your studio doors to the public, and to show and sell your work. For the community, Open Studios is a free self-guided tour that will enhance awareness of talented local artists while enriching the cultural life of Clark County neighborhoods.
Preview exhibit and artists reception: First Friday NOVEMBER 6, 5–9 pm
Open Studios tour: Sat–Sun, NOVEMBER 14–15, 10 am to 5 pm
APPLICATION DEADLINE: MAY 31, 2015"                                          -Arts of Clark County
Application link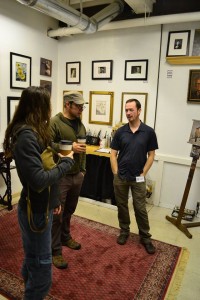 Photo: Artist Michael Smith chats with guests in an Open Studio event at North Bank Artists Gallery.