Amazing Arts from Our Classrooms
Last week I chaperoned my son's choir field trip to the Hilton where they performed with two other schools for the Vancouver School District Foundation Luncheon. Dozens of students sang and played instruments. The song they all performed together: "Man in the Mirror." It was moving, and the students enjoyed a standing ovation. I felt pride in my son, and also in the Vancouver Schools for providing arts education at this level. The instructors are top notch and the opportunities to perform are exciting.
Vancouver has bragging rights in the arts community because of our magnet school, Vancouver School of Arts and Academics. This creativity-focused institution started in the 1990s and has thrived for years. In addition to VSAA, many schools enjoy strong programs in visual and performing arts. For example, Columbia River High School has an advanced visual arts program that works with a local gallery on an excellent student show. They also partner with Arts of Clark County on Art Car, an installation project that happens on First Friday in June and will be on display at the Recycled Arts Festival the last weekend in June.
At Thomas Jefferson Middle School, one of their art teachers is nationally accredited and has been in the classroom for over forty years. Also, she has a kiln and a printing press in her room. Very cool! I know many other art teachers around Clark County, instructing in subjects like music or photography or ceramics, who are dedicated to providing high quality arts education.
To support arts in Clark County schools, folks can do a few things. First, donate to school foundations. Also, donate new art supplies to schools. Lastly, let our leadership know arts in the classroom are important and that art teachers need supplies budgeted. Speak up for the arts- our students deserve it.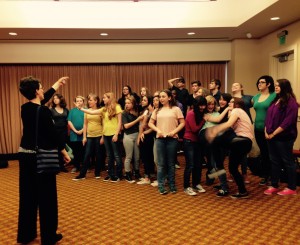 Choir teacher Margaret Green rallies the students for a photo before their performance at the Vancouver Schools Foundation Luncheon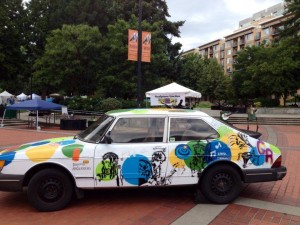 Art Car at the Recycled Arts Festival in 2014. The car will be re-installed with a new design during First Friday Art Walk, June 5.