It's the last full week of summer vacation for school kids, parents, and teachers. And the beginning of what is often the best month of the year in the Northwest. Ironic, isn't it? Just when many people have to get back into the routine of the school year, the weather improves.
But even if we'll soon start seeing the days grow shorter and the air a bit cooler, it's not too late to enjoy another summer salad with fresh produce from the farmers' market! And this one is delicious. It contains the all-time favorite romantic vegetable/fruit (or the fruit we call a vegetable) as well as one of the herbs often used in Chinese, Egyptian and Indian medicinal recipes as well as in Tudor England at wedding banquets. The veggie? Tomatoes, of course. The herb? Cilantro.
Interestingly, the taste for cilantro is not universal and dislike for the smell and taste may be genetic. So, if you don't like it, it may not be your taste buds. It may be in your DNA. If you're a cilantro foe, substitute flat-leaf Italian parsley in the following recipe.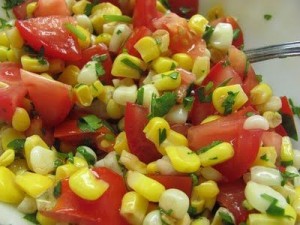 Sweet Corn and Tomato Salad With Cilantro
3 servings
3 ears of corn
1/4 lb. cherry or grape tomatoes, cut in half
1/4 cup chopped Walla Walla Sweet onion
1/8 cup chopped fresh cilantro
1/8 cup extra-virgin olive oil
1 tsp red wine vinegar
1. Trim tops and end of corn. Microwave on full power for 3 minutes.
2. Slide off husks and silk. Let cool until easy to handle and cut kernels from cobs.
3. Place corn with remaining ingredients in large bowl and toss.
4. Serve at room temperature.