It's almost the end of July already. How's your summer been? Busy? No time to spend with your favorite person? That's not good, is it? Because if ever a season was meant for hanging out with a loved one, kicking back with nothing to do but enjoying their company, it's summer.
So, change it up this weekend. Head out to a park, a campground, a national forest, a river bank. Take a blanket, a bottle of wine or sparkling juice. Take an iPod with romantic music on it and share one set of headphones while you just do nothing.
Talk about summer sizzle.
Of course, if I had my way, this would be where I'd spend my summer evenings: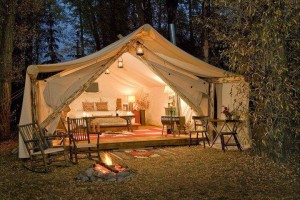 I mean, who wouldn't? But, as I don't have a staff of minions to schlep the furniture to the site, set up the tent, start the fire and hang the lanterns, the back yard will have to do. I do know one thing, dinner is likely to include my favorite sesame noodles. It's a dish that travels well, doesn't need refrigeration, can be served warm or room temperature and contains such wonderfully sexy ingredients as hot pepper flakes and garlic. Romance and no vampires. Great combo.
The recipe is my adaptation of one from Caprial Pence's cookbook, "Caprial's Cafe." She and her husband John had a cooking show on OPB for some years and a restaurant in Sellwood over in Portland. I miss the restaurant but with her cookbooks can still have some of her food.
Sesame Noodles
Serves 2, generously
1/4 pound dry Asian egg noodles
1 tblsp. soy sauce
1 clove garlic minced
1 tsp. hot pepper flakes
3/4 tsp. sesame oil
1/8 cup vegetable oil
3 tblsp. toasted sesame seeds
3 green onions, chopped
1. Bring large pot of water to boil and add noodles. Cook for 5 minutes until al dente.
2. Drain noodles and set aside in large serving bowl.
3. Whisk the soy sauce, garlic, hot pepper flakes, sesame oil and vegetable oil together.
4. Pour dressing over the noodles and toss until noodles are well coated.
5. Sprinkle sesame seeds and green onions over the noodles and serve.
This is a nice accompaniment to cold fried chicken, too, and is the ideal summer pot luck dish because it doesn't have to be refrigerated.