Pirate's Parrot Show is worth seeing but sit up front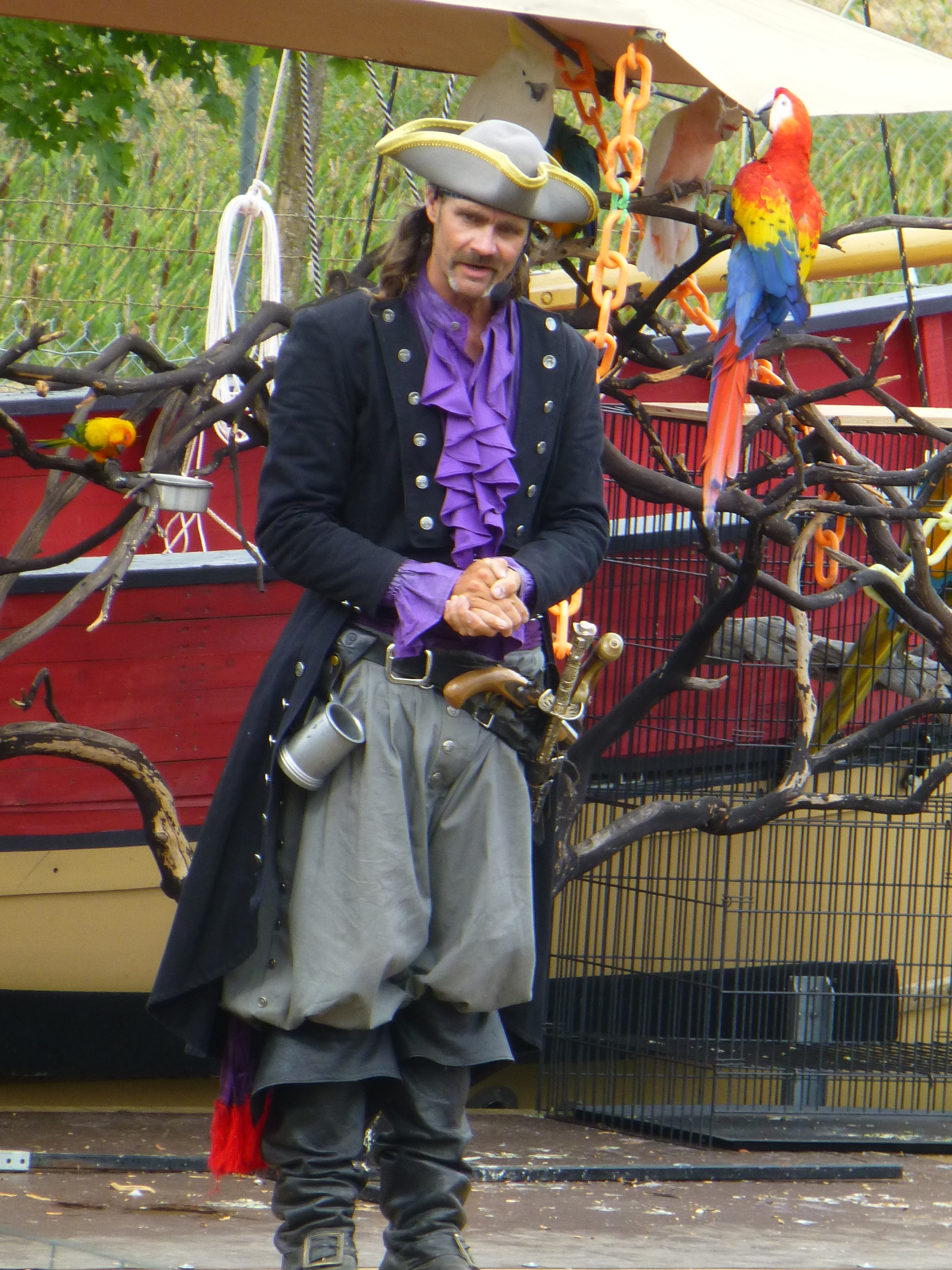 If you have been to the Fair the past few years, you might remember the Pirate and his parrots.  You also might remember Dock Dogs.  Well, the Dock Dogs are gone again this year and the Pirate ship has docked in their old space near the Blue Gate and the big Ferris wheel.
I had heard that the Pirate's entertaining and educational show was a bit new and expanded this year so I was eager to check it out.  We just caught the 4:30pm show and I would say it is neither new nor largely expanded, but there are some differences.  And it is still worth seeing.
I don't know the details (SO CURIOUS) but Pirate Christopher explained at the start of his show that "disaster struck in 2012" and thus his pirate ship as well as the crop of parrots are all new.  As such, training is still underway.
Also, two of the parrots that typically do a rather fun (and likely profitable) dollar bill trick are immensely distracted because they are new parents and their babies are nearby in cages.  Although we know the baby birds are safe, mommy and daddy birds don't know this so they aren't real keen on flying around to snatch money out of eager hands.
The new and still-in-training birds do provide for unique opportunities for Pirate Christopher to demonstrate how he is teaching the birds to talk.  I also enjoyed learning the new parents are so protective.  So there is new learning to be had if you have seen his show in past years.
The one complaint I have about the show has nothing to do with the show itself but with the sound system.  I guess there are ongoing frequency issues with the Pirate's wireless headset so there is a lot of static at times.  The Fair Sound Guy was working on it after the show.
Also, with the music and screams of the rides so proximate, it was often hard for me to hear what was going on.  I was sitting on some benches at the top of the hill against the Big Air Conditioned Building, so I was as far away as I could be and still be considered in the audience.  I would strongly recommend that anyone who wants to catch all the info AND get a personalized experience with the parrots sit up front on the conveniently provided bleachers.
So definitely worth it, just choose your seat with purpose.