I'm back! And so are free tix from Fred Meyer!
Greetings Fellow Fair Fans!!
Only 15 days, 14 hours, 52 minutes, and 26 seconds until The Best Time of the Year officially begins!  Yes, folks, that's right…the Clark County Fair is almost here!
I am thrilled to be blogging again for The Columbian.  I've got a couple surprises for this year's Fair Blogging Adventure; more on that in the days to come.
Right now, you need to know that free tickets for Opening Day and discounted entry and parking for the rest of The Fair are available.  Go get 'em!
As is tradition, Fred Meyer is very generously providing a free pancake breakfast on Opening Day — Friday, August 1 — from 8:00am until 11:00am sharp.  The free breakfast comes with a free entry into The Fair that morning.  WHOO HOO!!  All you need to do is go to the Customer Service Desk of any Clark County Fred Meyer store and ask for some free tickets to the breakfast.  Last year I had to show my Fred Meyer Rewards Card but today, the nice lady just handed me my tickets with a smile.  There is still a limit of 6 tix per customer, though.  Also, although the free breakfast service stops promptly at 11:00am, you can get into The Fair for free until noon that first day.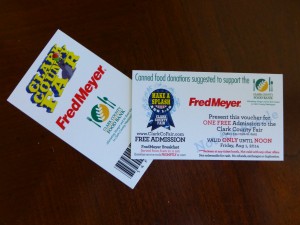 If you are planning to go to The Fair any other day (of course you are, right??), you can get discounted tickets ahead of time.  By planning ahead, you can save $2.00 per ticket (for example, Adult General Admission will be $10 at the gates during The Fair but $8.00 if you pre-purchase them).  The following locations are selling the discounted tickets through Thursday, July 31:
Fred Meyer (all Clark County stores)
Columbia Credit Unions(all Clark County branches)
People's Credit Union (all Clark County branches)
Wilco Farm Store (Battle Ground, Kelso, Canby, and Oregon City stores)
You can also buy the early tickets on The Clark County Fair's new-and-mostly-improved website (click here).  However, you will be charged a $0.75 service fee per ticket, reducing your savings to only $1.25 per ticket.  If you go to one of the stores listed above, there's no service fee.  So yeah, not much of a decision for me.  Every little bit of savings now means more deep-fried goodness later!