Llamas and Tuff Trucks ~ A Day Filled with Obstacles
Blue is blue, right? I do not have any llamas of my own…sniffle…but Rob and I are sort of llama groupies (I volunteer as an assistant handler for a cool therapy llama named Rojo). We often hang out in the Llama Greenway to help answer questions and introduce Fairgoers to the wonderful world of camelids, including a 3-week-old alpaca that is the softest thing you'll never want to take your hands off of. Because we are with the band, so to speak, we also get to participate in some llama fun in the show ring. So that was a good chunk of our day at the Fair today.
Today was the day Rob and I competed against each other and a bunch of other non-4-H'ers in trying to convince llamas and alpacas to do things they really don't want to do. Most of the competitors are typically parents of 4-H kids or former 4-H kids. Then there are the assorted "hangers-on" like me and Rob and spouses of the former 4-H kids who compete mostly to round out the class and provide some comic relief.
Our competition today was the Obstacle Course. This meant I tried to convince Smokey the Llama to slalom through some poles…BACKWARDS. And step through a ladder, under an arch, over a bridge, around in a circle, shimmy sideways back and forth, and walk through a hula hoop that was really meant for something much smaller…like a 3rd grade human sort. All this while trying to remember how to hold the lead rope and not to touch Smokey and to pay attention to his feet and to be mindful of the judge and all sorts of other things I clearly do not know.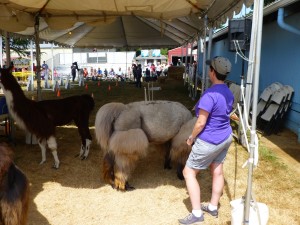 I'm not sure what I did wrong — I actually thought I might end up in 5th or 6th place. But whatever I did wrong, I did it repeatedly and with gusto because I ended up with a really pretty blue ribbon…a really pretty light blue ribbon. Did you know light blue ribbons exist? I sure didn't, until today, thanks to a 10th place finish out of 11 competitors (God bless you, Bob).
As for Rob, well, he and Rojo got a lime green ribbon for finishing in 7th place. Sigh.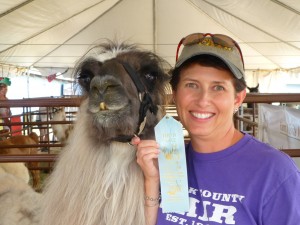 Tuff Crowd After standing around with llamas for several hours, I was in desperate need of a seat and a snack, so we caught the evening Tuff Trucks dinner show. The Tuff Trucks event is basically a dirt track with lots of obstacles that pick-up trucks of various types drive through as fast as they can without crashing. At least that is the drivers' objective. The audience isn't so interested in a fast finish time as much as a broken axle or a popped tire or minimally, some truck-flying-through-the-air action.
The crowd tonight clearly wanted to see some fast-paced destruction because they actually booed several drivers who finished the course but went at it rather methodically or had the audacity to use their brakes. The crowd went nuts when one guy attacked the "table top" obstacle — which was clearly designed to make trucks fly — and ended up flipping his truck upside down. It was very exciting until the truck's roof smashed against the ground as its tires spun to the sky. I got really scared when the driver's mom came running out on the track and was motioned away. Thank God, the young driver eventually emerged unharmed, fists pumping in the air in victory of having provided the most memorable run of the night.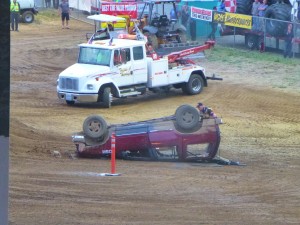 Fair Food Feast Parade! I walked exactly 3 miles today, some of it backwards. Unlike Smokey. Sigh. Here's what my tummy is attempting to digest tonight:
Schedule Highlights for the Last Day of the Fair (Sunday):
Large Animal Round Robin Showmanship at 11:00am

Fair Court Competition speeches at the Kids' Park Stage at 2:00pm

Monster Trucks in the Grandstands at 2:00pm

Fair Court Competition equestrian competition in the Horse Arena at 4:00pm

Monster Trucks in the Grandstands at 7:00pm

2014 Fair Court Coronation at the Kids' Park Stage at 8:00pm