Here's The Dirt About This Year's Demolition Derby
Anyone remember last year's Demolition Derby? If you were there, you know how disappointing it was. I mean, a Geo Metro won. A Geo Metro! Come on!!
I am pretty sure the Fair Office got an earful from some really annoyed derby fans. I know I passed along my thoughts. I have been poking around all week trying to find out if things will be new and improved for this year's Demolition Derby that happens on Friday. I talked to some people who seemed to know a few things and here is what I have been able to piece together.
Bottom line: it should be better than last year but I'm not convinced it will be as good as prior years. Call me cautiously optimistic.
WGAS Motorsports was the promoter last year and they are returning this year. Best I can tell, they are pretty much the only demolition derby promoters left on the west coast. The folks who used to run the Clark County Fair demo derbies seem to have gone out of business. Apparently when the economy tanked, the demolition derby industry did, too.  Plus a lot of prime derby car inventory disappeared in the Cash for Clunkers program.
Judging from the collection of derby cars in the parking lot outside the Grandstands on Thursday, Creekside Painting is again the key sponsor because once again all the cars are painted very similarly by them. Sigh. Gone is the fun variety of cars decorated individually by the owners and drivers. I really missed the M&M car and the Mooncruncher siblings from Kalama last year. There is a chance they will show up this year, though, as I was told there are four professional drivers that are bringing their own cars to compete. So we will find out soon.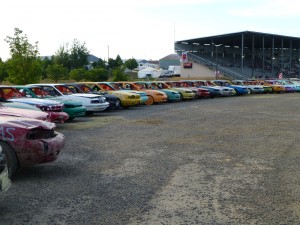 Some good news: the track will be bigger and there will be more cars competing. Last year the track was about one-quarter the size of the Grandstands arena. This year it should be closer to one-third the size. Although that doesn't sound like much improvement, I was promised it will make a big difference.
Last year only ten cars crashed and banged around. This year I counted 27 cars in the parking lot. Plus the four professionals that hadn't arrived yet. There will also be an RV round again, with at least 4 RVs lumbering about.
I couldn't really nail down what is happening in the 2:00pm show versus the 7:00pm show. I do know that whatever cars get banged up in the afternoon will be worked on quickly to try to get them running again by the evening show. So I can't imagine all 27ish cars will compete in the afternoon because that's a lot of repair work and I got the impression the number of mechanics is limited.
I will be in the Grandstands for both shows, hoping with great intensity that I will get my Clark County Fair Demolition Derby back. Or at least a version that isn't as pathetic as last year's was. Stay tuned!
Fair Food Feast Parade!
Today's general wandering around and eating yielded a respectable 4.48 miles on my pedometer and a suitable buffet of Fair Food delights. Thanks to a bean burrito, today's Tums count is 1.
Highlights for Friday's Schedule:
4-H Small Animal Round Robin in various barns at 12:00pm

Demolition Derby in the Grandstands at 2:00pm

4-H Dog Rally Obedience Competition at 5:00pm

Demolition Derby in the Grandstands at 7:00pm

Jerry Harris Hypnosis Show on the Columbian Community Stage at 8:00pm and 10:00pm