Hypnotist, Guys on Fire, and Magic ~ The Fair Has it All!
One of the things I really appreciate about the Clark County Fair is all of the stage entertainment. There are the free shows in the Grandstands, like concerts and truck pulls and bull riding. Plus there are two other smaller stages in the Fairgrounds with 'round the clock performances of all types of stuff.
The bigger stage is the Columbian Community Stage which is located between the Carnival and the Food Court, right next to the Sling Shot ride. The smaller stage is the Kids' Park Stage which is in a small park tucked behind the Dairy Women's Milkshake barn. If you feel like sitting down for a bit, either of these two stages is a great place to rest and be entertained at the same time.
Today we took in three different shows, two on the Columbian Community Stage and one on the west side of the Fair. Each one is worth checking out.
Jerry Harris the Hypnotist rocks! We first discovered Jerry's show about four years ago. We instantly became fans and we now make a point to see multiple performances each year. Tonight we saw him for the third time.  It was the best show so far this year.
Jerry is very professional and respectful of the people who join him on stage. He knows how to have fun in a good clean manner that is suitable for the family. Word gets around the Fair pretty fast, because his evening shows are pretty crowded. People start showing up 20-30 minutes early to get good seats. I know this because we are two of them.
Tonight's show featured an hysterical Justin Bieber concert, complete with back-up singers and very excited fans, including one cool dude whose friends will probably never let him live down the fact that he was quite an awed Belieber tonight.
There was also a '70s disco dance performance featuring John Travolta and back-up dancers. The young guy who thought he was John Travolta did his best to dance a la Saturday Night Fever even though there's a chance not even his parents remember when that craze was taking over the country. I nearly fell off my chair laughing when I realized our John Travolta, having exhausted his disco repertoire, was doing dance moves from "Pulp Fiction." Another few minutes and we might have gotten some Greased Lightning moves. Wow, how many movies has John Travolta danced in anyway?
You can catch Jerry's show nightly on the Columbian Community Stage. His remaining performances are:
Thursday, August 8 at 9:00pm

Friday, August 9 at 8:00pm and 10:00pm

Saturday, August 10 at 8:00pm and 10:00pm

Sunday, August 11 at  7:00pm and 9:00pm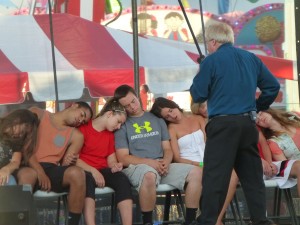 Adam the Great was pretty good. We stuck around after Jerry's 7:00pm show to watch a magician act on the Columbian stage. Adam the Great was pretty funny, with some jokes aimed at both kids and adults. His slight-of-hand tricks were pretty impressive, leaving me wondering how he did the tricks even though I was sitting in the second row and had a great view of what he was doing. My favorite part of the show, though, was when he called my husband Rob up on stage. If you know Rob, you know a stage is the last place he wants to be. But Rob did a fantastic job; I was very proud of him. I am also grateful that Adam is indeed a Great Magician and knew how not to actually saw off Rob's left hand.
Adam the Great's remaining shows are:
Friday, August 9 at 1:00pm and 3:00pm

Saturday, August 10 at 9:00pm

Sunday, August 11 at 4:00pm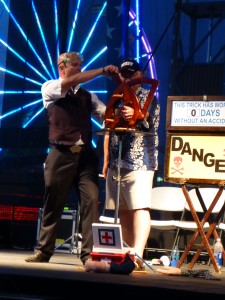 Flaming Divers! A new show this year is the "Fire and Height Dive Show." It replaced last year's Pirate Parrot show. It is the same location that the Pirate show was, over on the west side of the Fair near the Green Gate and the antique farm equipment and steam engines.
We had seen parts of the Fire and Height Dive Show over the past five days but it wasn't until today that we finally sat down in the bleachers and watched the show from beginning to end. Although only a short 20 minute performance, it is worth checking out. Especially since the Sweet Cheeks deep fried everything truck is right across the pathway. Mmmm, deep fried chocolate chip cookie dough… (Spoiler alert:  skip the deep fried banana.)
There were three divers in all and they did dives from three different heights into a pool of water they said was 9 feet deep. I know nothing about diving, so I appreciated the brief demonstration of pike, tuck, and layout dives. Always good to get a little education along with the fun.
The highlight of the show is actually pretty early; I assumed it would be the finale. Hard to top a guy setting himself on fire and then diving into a pool of water. That's what the show's owner did and it was very impressive. It was fun trying to take pictures of it, too.
One note: the first several rows of the bleachers run the risk of getting splashed with water so if you want to stay dry, arrive early enough to get a seat in the top couple of rows.
Show times are at 1:00pm, 6:00pm and 9:00pm every day plus a 4:00pm show added on the weekends.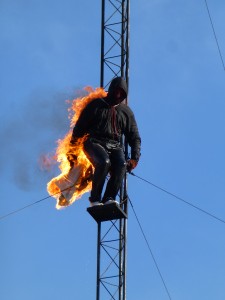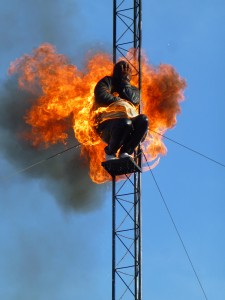 Fair Food Feast Parade! Today was a much better day food-wise. Even though we were only at the Fairgrounds for about 7 hours today, I am happy with my consumption. My pedometer says I walked 2.80 miles. No Pepto or Tums today but two new zits appeared on my forehead. Lovely.
Highlights on Thursday's Schedule:
Lots of horse competitions going on in the Horse Arena all day

4-H Kitchen Activities and Public Presentations in the Exhibition Hall all day

Moto X in the Grandstands at 2:00pm and 7:00pm

Texaco Country (Music) Showdown on the Columbian Community Stage at 6:00pm

Come ask me a question about llamas and alpacas in the FFA/Grange Barn 

between 2:00pm and 4:00pm